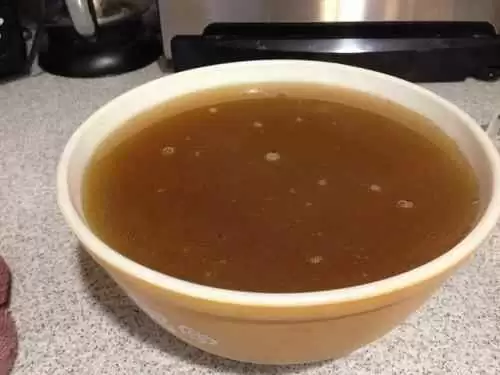 Caption: Image: CC--Kim Knock
Celiac.com 05/11/2017 - As research continues to show the remarkable nutritional advantages of bone broth, it is gaining a spotlight in the nutritional world, especially in nutrient focused diets like the paleo diet, clean eating, and more. But though the attention may be new, it is actually an age old dietary staple dating back to paleo era days when utilizing every part of animals was essential. Bone broth has remained a dietary staple around the world for generations. It is an exceptionally nutrient dense broth made by simmering the bones and connective tissues of animals. It's surprisingly easy to make and the benefits offered are astounding. If you are new to this wonder food read on to find out about bone broth benefits and the real truth about all it offers!
Top Benefits of Bone Broth
Bone and Ligament Health. As bones are simmered in the making of bone broth, key bone health minerals such as calcium and phosphorous are infused into the broth. Additionally, the breakdown of the connective tissue used for bone broth provides a natural source of glucosamine and chondroitin which supports joint health.
Gut Health. The gelatin produced from animal collagen provides a healing effect for the GI tract. People starting a gluten free or paleo diet in hopes of calming down an inflamed digestive tract may especially appreciate this benefit.
Immune Health. Turns out the old wives tale of chicken soup to cure illness holds some truth. The rich mineral content and in particular the amino acids in bone broth support a healthy immune system.
Women's Health. Bone broth also offers help when it comes to women's hormones. This is because poor nutrient absorption is closely tied to hormonal health. When the gut is inflamed, nutrient absorption suffers. By healing the gut, the body can better regulate hormone levels.
Anti-Aging. The collagen rich gelatin found in bone broth may just be the fountain of youth. Adding to this anti-aging effect, the amino acid proline further helps to give strong and shiny hair, skin, and nails.
---
Celiac.com Sponsor (A12):


---
---
Celiac.com Sponsor (A12-m):


---
Tips to Making Bone Broth Yourself
Quality Matters. To avoid the chemicals conventionally raised animals are exposed to and gain maximal nutritional benefits, opt for bones from grass-fed cows and/or free range chickens.
Pick the Right Parts. The bones, ligaments, and cartilage used in bone broth each offer benefits. The bones give the broth vitamins and minerals while the ligaments and cartilage provide all important collagen as they break down. Opt to include knuckles as much as possible as they are particularly collagen rich.
Go Slow. The secret to bone broth is going 'low and slow.' Cooking broth in a slow cooker on a lower heat setting for a longer period of time allows the collagen, vitamins, and nutrients to best be released into your broth.
Add an Acid. Be sure to add a spoonful of an acid such as apple cider vinegar to help break down the connective tissue and collagen.
This is a very simple approach to adding something extremely beneficial to just about anyone's diet or health routine.