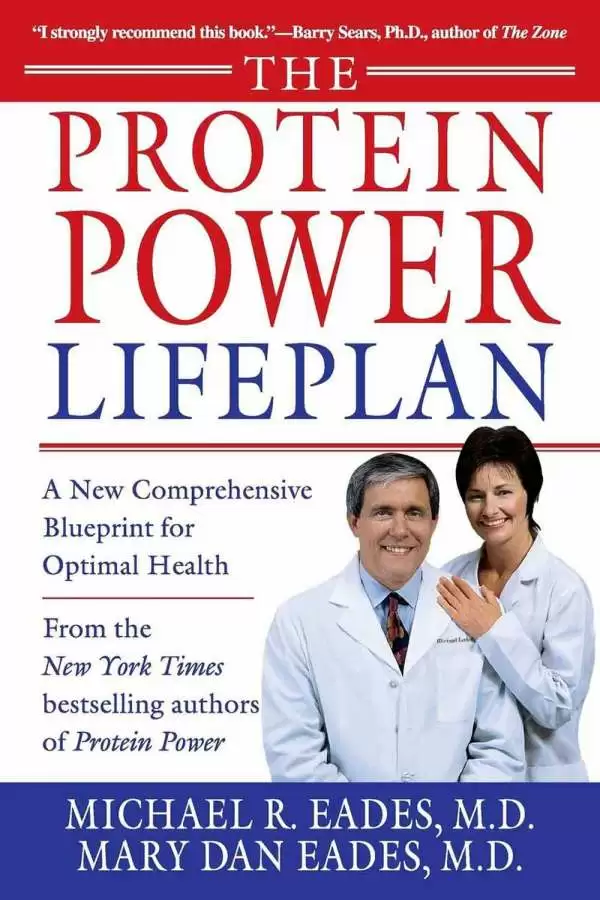 Celiac.com 07/25/2020 - Drs. Michael and Mary Dan Eades are physicians and health researchers from Boulder, Colorado who co-wrote the best selling Protein Power in the late 1990s.  The book sets forth, in the words of the authors, "not a high protein diet" but "an adequate protein diet."
For this reason that I am not a big fan of the "Protein Power" phrase, though I suppose that the alternate titles Adequate Protein or Fat Power would not have helped with book sales.
---
Celiac.com Sponsor (A12):


---
---
Celiac.com Sponsor (A12-m):


---
The subject of this review is the sequel The Protein Power Lifeplan (Grand Central Publishing, 2001) in which the Eades take "the opportunity to answer readers' queries, to include information on the many far-ranging benefits of the regimen, and to offer, at last, a comprehensive  plan for living what we think of as a Protein Powered life."  This is not just your run of the mill diet book. It is a comprehensive plan for health.  One that is well worth reading - not just for celiacs and the gluten intolerant, although they do address us directly, but for all those who wish to lead a healthier and fuller life.

The Protein Power Lifeplan is composed of fifteen chapters, the cornerstone chapter being a section called "Man the Hunter," in which the Eades lay out the evolutionary foundation for their lifestyle recommendations.  The chapters that follow address varied topics such as insulin, dietary fats, cholesterol, antioxidants, sweets, as well as iron, magnesium, sunshine, along with mental and physical exercise.  The book ends with practical advice on how to implement their nutritional plan.  
Man the Hunter
This chapter sets the foundation for the rest of the book.  It lays out the historical basis for, not just what our ancestors ate, but how they exercised, what types of minerals they obtained in their diets, and how much sunshine they got (no, they didn't have sunscreen).
The gist of the message – a point I've made in my other articles for this newsletter – is that while we've only been consuming the fruits of agriculture and ranching for at most 10,000 years, we were hunter gatherers for at least two and a half million years before that.  What did we eat?  Well, certainly not grains in any form (inedible grass seeds), no beans, no dairy, no refined sugars.  Only a diet of "nutrient-dense foods – meat, fish, and poultry, rich in protein and good-quality essential fats; fruits, berries, and vegetables, rich in antioxidants and cancer fighting substances…."
Brief Summaries of Some Non-gluten Chapters
Before we get to the subject that's probably of most interest to the readers of this newsletter – the impact of gluten on the human gut -- let's briefly touch on a few of the other interesting topics in this book:
Insulin – this key hormone "lies at the root of heart disease, diabetes, hypertension, cholesterol, and triglyceride elevations…."  This is an important subject for the gluten intolerant as we tend to replace foods that contain gluten and are high in carbohydrate with non gluten foods that are also high in carbohydrate.  In doing so we've solved the primary problem of autoimmune reactions to foreign proteins but we continue to set ourselves up for what is variously called Syndrome X, Metabolic Syndrome, or Hyperinsulinemia/Insulin-Resistance Syndrome.
Fats – the low fat dietary recommendations made by the health establishment in the past few decades have been an abject failure.  Healthy, unadulterated fats were a staple of our ancestors' diets.  While there is a shifting perspective with a newfound emphasis on Omega 3 and monounsaturated fats like olive oil, it is a shame of the highest order to have demonized what was to our ancestors a primary macronutrient.
Cholesterol – another unnecessary demonization has been directed at this "naturally occurring and necessary substance."  Yes, there is such a thing as "bad" cholesterol, the subfraction of LDL called "small, dense."  But taking drugs to reduce it is akin to demanding that bandages be removed from the scene of an auto accident.  High bad cholesterol is a symptom of a dietary issue rather than a problem in and of itself.  And, gasp, no correlation has ever been established between the consumption of cholesterol and high blood cholesterol.
Sunshine – "We recommend regular sunbathing as a necessary step back to the natural lifestyle we were meant to live."  Huh?  Haven't we been told to avoid the sun at all costs, to slather on layer after layer of sunscreen to avoid the deadly rays from above?  Like us, our ancestors would certainly have avoided sunburn when possible.  But sunlight is a natural source for vitamin D and will "protect us from weak bones, sad moods, a slow metabolism, and cancers…."   It is not to be avoided but enjoyed.
The Leaky Gut
Perhaps of most interest to celiacs and the gluten intolerant, The Protein Power Lifeplan contains a tour de force of a chapter entitled "The Leaky Gut: Diet and the Autoimmune Response."  If you were to read nothing else in the book, you have to read this one chapter.
The substance of the Eades' argument in this chapter is this:
We only began to consume grains as an important food source after the change from a hunter gatherer to farmer.  This occurred about 10,000 years ago at the most.  (Some groups made this shift much more recently!)
The purpose of the human intestinal tract is to "break down the foods we eat and absorb nutrients from them."
Eating grains causes not just direct damage to the digestive system, in the case of celiac disease, but also results in cellular inflammation of the gut lining.  This inflammation then leads to intracellular gaps that allow incompletely digested plant proteins access to the bloodstream.
Once in the bloodstream, "these plant proteins… cause trouble because their structure is so similar to the structure of body proteins; some of them are like the proteins in joint surface tissues, others like the filtering apparatus of the kidneys, and still others like the covering of nerves."
It's not just grains that cause this problem.  Lectins from beans can also cause intracellular gaps in the gut and the autoimmune issues above.
Conclusion
By taking us back to our ancestral diet and habits that formed over millions of years, The Protein Power Lifeplan is an excellent resource for discovering why it is that we have issues with gluten-containing grains.  But, as you can see, this book is more than just a warning against wheat, rye, and barley.  It's a refreshing, common-sense antidote to much of our recent dietary wisdom.  Highly recommended reading.