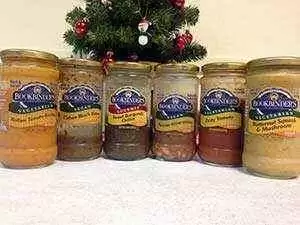 Celiac.com 10/09/2013 - If you love hot soup on a cold Wintery day, these wonderful gluten-free vegetable soups are a great choice.
The Cuban Black Bean Soup has pureed black beans with corn, red peppers, onions, carrots and spices. I thought it would be spicy, but it was mild. High in fiber, this soup would make a great starter for a home-made Mexican Feast.
---
Celiac.com Sponsor (A12):


---
---
Celiac.com Sponsor (A12-m):


---
The Butternut Squash & Mushroom is thick and creamy with a beautiful golden color. Put this soup in a dark bowl and you have a chef-inspired dish that will win rave reviews.

The Zesty Tomato soup is an interesting combination of tomatoes, jalapeno pepper and ginger. However, I did not realize there were jalapenos in this soup until I looked at the list of ingredients, so the word "zesty" does not imply hot or spicy.

The Tuscan Minestrone is a low-calorie soup with tomatoes, spices, and white beans. The broth is light, making it the perfect starter for a bigger meal.

The Sicilian Tomato Zucchini Bisque is a delightful blend of zucchini and tomatoes combined in a rich cream sauce.

The Sweet Burgundy Onion Soup has a rich, distinctive taste due to the nice combination of burgundy wine and french brandy. Add some mozzarella cheese to the top and voila–you have an onion soup that tastes like home-made.

All of these family-style soups are carefully crafted with the finest ingredients. Additionally, the sampler pack provides exceptional variety at a reasonable cost and the glass containers are a classy addition to your pantry (no more worries about contamination from metal cans that are often made of BPA). I highly recommend these delicious soups as part of a meal or as the meal.