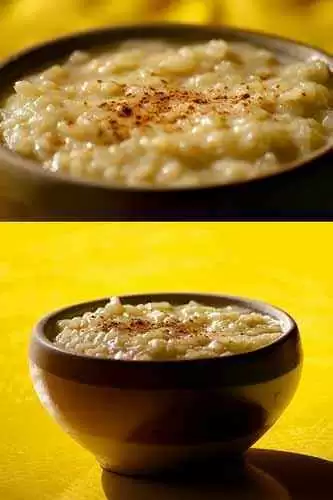 Caption: Gluten-free Rice Pudding (photo courtesy of Rore)
For many people, having celiac disease and gluten sensitivities also means having a sensitive tummy. Sometimes it feels like there is nothing you can digest and everything hurts your body. This following recipe is a delicious yet healthy dish that can be served for breakfast or as a late evening dessert.  It is gentle enough for even the most sensitive gluten sufferer to digest (unless of course you can't eat rice). It can be topped with any  of your favorite toppings such as cinnamon, blueberries, maple syrup, toasted nuts or anything else you like.
Ingredients

1 1/2 cups organic brown rice
¼  teaspoon fine grained Himalayan salt
2 tablespoons arrowroot powder
1 tablespoon ground cinnamon
1 1/2 cups soy milk or coconut milk work best
1/4 cup maple syrup
1/4 cup raisins 
Vanilla extract to taste-optional

To make:
Preheat the oven to 350 F degrees.
Bring the brown rice and 3 cups of water to a boil in a medium saucepan.
Once it is boiling reduce heat to low, cover and simmer for 40 – 50 minutes, or until the rice is very soft.
In a large bowl, dissolve the arrowroot powder in 1 cup of the soy milk.
Then add the rice, raisins, maple syrup, cinnamon, and salt and mix well.
Pour the mixture into a large greased baking dish, cover with foil and bake for 1 hour, or until lightly brown and bubbly.
Remove from the oven and stir in the remaining 1/2 cup of soy milk.
Leave the pudding to cool for about 1 hour before serving.
Add your favorite toppings.

Enjoy!
---
Celiac.com Sponsor (A12):


---
---
Celiac.com Sponsor (A12-m):


---