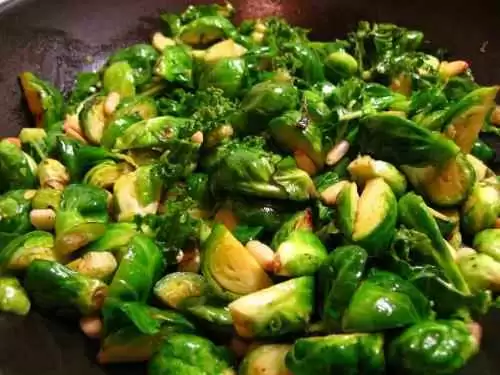 Caption: Gluten-Free Brussel Sprout Salad (photo courtesy of randomduck)
I love Brussels sprouts! I may be the minority....but if you love Brussels sprouts as much as I do, then you will likely love this recipe too. This is a very easy recipe and it can be eaten as a meal or served as a side dish, served warm or cold.
Serving Size:  4  (as a side) or 2 (as an entree)
---
Celiac.com Sponsor (A12):


---
---
Celiac.com Sponsor (A12-m):


---
Ingredients:
1 lb. Brussels sprouts, halved or quartered, depending on size
1 cup chopped kale (optional)
½ - ¾ Cup Pine nuts (raw or lightly roasted)
2 gloves garlic, crushed
1 tbs. olive oil or grapeseed oil

salt and pepper, to taste
dash of nutmeg (optional)
To make:
Saute all but pine nuts over medium heat until bright color develops and the sprouts are tender.
Add pine nuts and cook for another few minutes.
Remove from heat and serve!