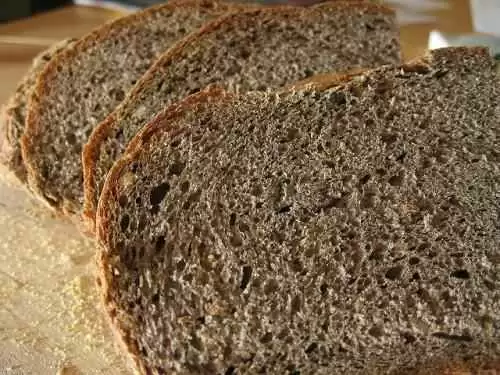 Caption: Velvety buckwheat bread - sliced. Image: CC--Eric Fung
Celiac.com 07/08/2017 - The most frequently used materials in the baking industry are wheat, rye, and barley flours. However, due to the presence of gluten, they cannot be used for gluten-free food production. Gluten-free products are characterized by a low content of nutrients such as protein and minerals which are important for meeting normal physiological requirements. In addition, these products are readily available and the taste is far different from typical bread. [Marciniak-Åukasiak K., M. concentrate Skrzypacz gluten-free bread with amaranth flour in foods. Science. Technology. Quality, 2008, 4 (59), 131 - 140]. These issues raise the need for finding new raw materials for bread production, which would improve the nutritional value and sensory experience [Wolska P., CegliÅ"ska A., Dubicka A. 2010. Manufacture of bread for gluten-free cereal żurkach. FOOD. Science. Technology. Quality, 2010, 5 (72), 104 – 111]. Due to the low intake of foods rich in essential nutrients and minerals, people with celiac disease are seeking supplements to avoid deficiencies.
Buckwheat, is an alternative raw material that can be used for production of gluten-free foods and has generated a growing interest. However, the scientific research regarding these crops is scarce [Zmijewski M. dough and bread quality wheat and buckwheat, depending on the technology food additives. Science. Technology. Quality, 2010, 5 (72), 93 - 103]. Common Buckwheat (Fagopyrum esculentum) although it does not require any complicated or unusual cultivation practices, it is rarely cultivated by farmers. Buckwheat is now grown in areas of Russia, China, Brazil, and Poland. The energy value of buckwheat is higher than the other grains such as wheat and rye. It is a good source of saccharides and proteins with well-balanced amino acid composition. It also contains high levels of lysine, fats, vitamins and minerals. It is also characterized by a significant amount of dietary fiber of varied fractional composition and biologically active compounds.
---
Celiac.com Sponsor (A12):


---
Specific levels depend on the variety, anatomical part, climate, and growing conditions. These factors also effect the content of biologically active substances, such as flavonoids and routins, thought to have health promoting effects on the human body. Buckwheat is also the source of many compounds with antioxidant effects, which are: tocopherols, quercetin, kaempferol, and phenolic acids [Krzysztof Dziedzic et al, Content of antioxidants in buckwheat and products made in the processing, Food. Science. Technology. Quality, 2009, 6 (67), 81 – 90]

The protein content of buckwheat is from 8.5 to 18.9%, depending on the species. Buckwheat protein has a high nutritional value. Its value is higher than pork protein, casein, fish meal and a bit lower than egg white. The scientific literature reports that extracts of buckwheat protein can successfully be used as a functional food additive for the treatment of diseases such as hypertension, obesity, cancer, and alcoholism. Scientists studying buckwheat demonstrate its beneficial effects on human health: buckwheat proteins prevent the formation of gallstones, they have the ability to bind vitamin B1, contribute to the prevention of colon cancer and breast cancer. In addition, buckwheat protein does not contain α-gliadin fraction, allowing buckwheat products to be successfully used in the production of food for people with celiac disease [M. Zmijewski, Jakość ciasta i chleba pszenno-gryczanego w zależnoÅ›ci od dodatków technologicznych żywność. Nauka. Technologia. Jakość, 2010, 5 (72), 93 – 103]

Technological processes used in the production of buckwheat have a significant impact on the content of antioxidant compounds. The highest content of phenolic compounds are found in grains of buckwheat after roasting and the lowest in whole buckwheat groats. Buckwheat hulls have lower level of these compounds compared with buckwheat before the roasting process. Routin is an antioxidant compound present in the largest amounts in the above product. [Krzysztof Dziedzic et al, Content of antioxidants in buckwheat and products made in the processing, Food. Science. Technology. Quality, 2009, 6 (67), 81 – 90].

Manufacture of bread with only buckwheat flour is impossible due to the lack or very low level of gluten proteins. Recipes that use buckwheat flour are enriched with corn starch, which replaces wheat flour. Such raw materials compositions are used in the production of bread for people with celiac disease. Complete removal of wheat flour results in the dough deterioration and structure for baking. Crumb color changes from cream to gray, the taste and smell is unpleasant when compared with traditional bread. In order to improve these defects some additives are used from dairy products such as milk and whey, which improve the quality of the bread [Jurga R., 2008. Wykorzystanie mÄ…ki gryczanej przy produkcji chleba pszennego. Przegl. Zboż.--MÅ'yn. 11: 18]. Products with roasted buckwheat flour stand out, with clear and distinct flavors of buckwheat, due to the higher content of dextrin, sugar and pectin [Wronkowska M., Soral-Åšmietana M., 2008. Buckwheat flour – a valuable component of gluten-free formulations. Pol. J. Food Nutr. Sci. 58: 59-6].

Studies indicate that gluten free bread with buckwheat added is characterized by an increased volume compared with traditional recipes. The result may be affected by other components in particular hydrocolloids. Loaves with more buckwheat content are characterized by greater height and size. The loaf shape will also vary depending on the addition of buckwheat flour [Krupa-Kozak Urszula et al J. Food Sci. Vol 29, 2011, No. 2: 103-108 Effect of Buckwheat Flour He Contents icroelements and Proteins in Gluten-Free Bread].

Enriching with common buckwheat flour, rich in protein and minerals, gives a positive effect on the content of important ingredients. As reported by the literature, add 10% buckwheat flour, by weight, to a typical bread recipe and you will double the content of protein in the product. Further increasing the buckwheat portion of the flour recipe resulted in further significant increases in protein content. Buckwheat flour also increases the copper and manganese content. Buckwheat grains are a good source of micronutrients and trace elements such as zinc, selenium, potassium, sodium, calcium, magnesium. Adding buckwheat also increases the amount of vitamins, especially of the B group. A valuable component of buckwheat grain is the flavonoid rutin. It has antioxidant, anti-inflammatory and anti-cancer properties. It seals blood vessels, prevents capillary fragility and reduces the risk of atherosclerosis [urszula Krupa-Kozak, Margaret and Wronka owska and Maria Soral-cream Czech J. Food Sci. Vol 29, 2011, No. 2: 103-108 Effect of Buckwheat Flour He Contents icroelements and Proteins in Gluten-Free Bread].

Buckwheat's high fiber content is also beneficial for the human body, a role that has only recently been appreciated. The fiber content of bright wheat flour is about 2.5%, while in buckwheat flour it is about 6.8%. Dietary fiber increases the volume of food intake, while not increasing the energy value, which is especially important for people who are overweight or obese. This substance reduces the feeling of hunger and acts as a filler in the gastrointestinal tract. Fiber also binds cholesterol, which indirectly reduces its level in the bloodstream. In addition, fiber absorbs harmful substances such as heavy metals, toxic components of plant antinutrients, and the products of their metabolism [Magdalena Fujarczuk, MirosÅ'aw Å»mijewski Jakość pieczywa pszennego w zależnoÅ›ci od dodatku otrÄ…b pochodzÄ…cych z różnych odmian gryki żywność. Nauka. Technologia. Jakość, 2009, 6 (67), 91 – 101].

In buckwheat nuts, valuable antioxidants such as flavonoid compounds and phenolic acids can be detected, which obstruct free radical reactions and inhibit oxidative enzymes. Due to its high antioxidant capacity and a significant share of the total pool of flavonoids, phenolic compounds, buckwheat products can provide a valuable complementary component of the gluten free diet [WpÅ'yw obróbki termicznej na skÅ'ad chemiczny i wÅ'aÅ›ciwoÅ›ci przeciwutleniajÄ…ce ziarniaków gryki; żywność. Nauka. Technologia. Jakość, 2007, 5 (54), 66 – 76 StempiÅ"ska Karolina et al]
Traditional food can be enriched by buckwheat bran containing protein, fiber, B vitamins and minerals. Buckwheat may well be a functional food ingredient. It is also a noteworthy possibility to use buckwheat as a component of a prebiotic. The presence of flavonoids in buckwheat can be used by the pharmaceutical industry.

In summary, buckwheat flour as an additive increases and improves the nutritional value and technological parameters of bakery products. It has a positive effect on the volume and shape of the loaves. Usage of these grains increases the flour's content of minerals such as copper, manganese, iron and zinc [Krupa-Kozak Urszula et al Buckwheat Flour Effect of a Microelements and Protein Contents in Gluten-Free Bread, Czech J. Food Sci. Vol 29, 2011, No. 2: 103-108]. However, when creating new products with health promoting features, we have to remember the consumer's preferences, especially in relation to the textural characteristics of bakery products. [Dziedzic K. et al 2010. The possibilities of using buckwheat in the production of functional foods. Science inc. Technol. 4, 2, # 28]