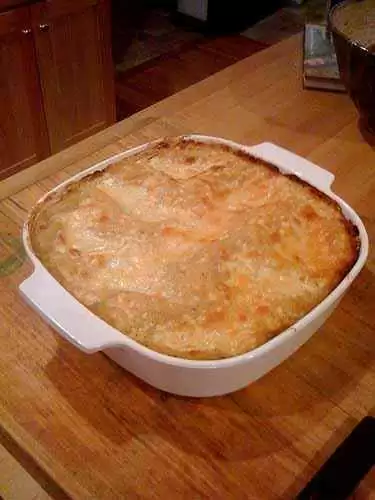 Caption: Butternut Squash Lasagna (photo courtesy of signal the police)
The following recipe is not your average lasagna recipe, but it is gluten-free, vegan, corn-free, sugar-free, soy-free and has the option to be nut-free if you use rice milk or hemp milk instead of almond milk. This is a recipe that can accommodate many dietary restrictions and is a healthy alternative to the standard cheese and meat lasagna. Please be sure that your spices are all gluten-free.
Ingredients:
---
Celiac.com Sponsor (A12):


---
---
Celiac.com Sponsor (A12-m):


---
Butternut Filling
6 cups cubed butternut squash roasted in the oven with a dash of olive oil
1/4 tsp salt
½  tsp pepper
½  tsp ground sage (optional)
1 tsp nutmeg
1 Tbsp almond milk -add more if too thick
3 Tbsp olive oil
To Make Butternut Filling:


Roast your butternut in the oven at about 400 degrees until soft, approximately 20 minutes. Once it is done, add all of the butternut filling ingredients into your food processor and blend until smooth and creamy (but not too watery). Add more almond milk or olive oil,  for texture if needed. Remove from the food processor and set aside while you make your creamy filling.

Bechamel (creamy) filling

1 cup pine nuts *soaked for a few hours
1 Tbsp nutritional yeast
1 Tbsp fresh lemon juice
3 Tbsp olive oil
1 cup almond milk (or milk alternative of your choice)
½  cup sweet rice flour
½  tsp pepper
2/3 tsp salt
1 tsp garlic powder
1 tsp basil
1 tsp oregano
*For details on how to properly soak your pine nuts, go here
Soaking Nuts
Drain your soaked pine nuts and add them to your (clean) food processor along with the nutritional yeast and lemon juice.  Blend until smooth but not runny.

In a small pot on the stove, heat your olive oil over medium-low heat and slowly add the sweet rice flour mixing it with the oil but not allowing it to burn. Stir for a few seconds and then add the almond milk slowly, stirring continuously (a wire whisk works well here). Add the rest of the seasoning and cook for a minute or so to get rid of the floury taste. Add the flour mix to the pine nut mixture in the food processor a little at a time, mixing in between additions. Once it is well blended, taste the seasoning- does it need more of anything? Also, is it too thick? If so, add more almond milk or olive oil.

Assembly:
Start  with a light layer of the bechamel, followed by a noodle layer, butternut layer topped with bechamel, noodle, and then butternut topped with bechamel. Sprinkle some more dried basil and oregano on top as well-to taste. I sprinkled some Daiya chedder vegan, soy-free cheese on top-it was delicious!

Bake uncovered in the oven at 350F degrees until bubbly - approximately 30 minutes.

Enjoy!