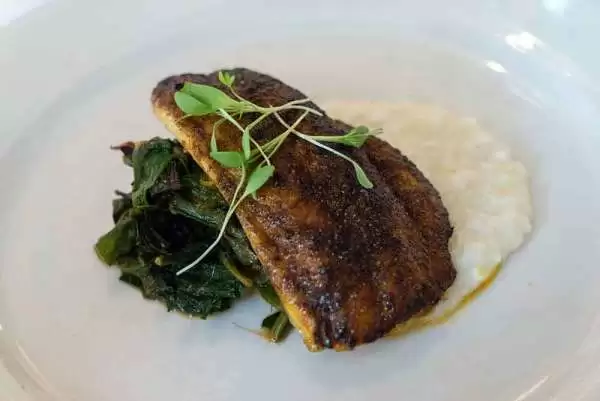 Caption: Here the blackened talapia is served with grits instead of rice. Image CC--Edsel Little.
Celiac.com 04/06/2019 - If you're looking to add a bit of snap to your next meal, look no further. This simple recipe covers fresh tilapia or other firm white fish in a blend of herbs and spices. Give it a quick sear on each side, and call it dinner. Crunchy and spicy on the outside, tender and juicy inside. It's sure to honor its roots and leave your hungry eaters satisfied. Yum!
Ingredients:
4 tilapia, catfish, or redfish fillets
1 cup long-grain white rice
2 cups fresh flat-leaf parsley
1 teaspoon grated lemon zest
3 tablespoon olive oil
3 tablespoons paprika
¾ teaspoon garlic powder
¾ teaspoon dried thyme
½ teaspoon onion powder
¼ teaspoon cayenne pepper
2 tablespoon fresh lemon juice
4 lemon wedges
Kosher salt and black pepper
---
Celiac.com Sponsor (A12):


---
---
Celiac.com Sponsor (A12-m):


---
Directions:
Cook the rice according to package directions. 

Meanwhile, in a food processor, pulse the parsley, lemon zest, 2 tablespoons oil, and ¼ teaspoon each salt and pepper until finely chopped; set aside.

In a small bowl, stir together the paprika, garlic powder, thyme, cayenne, ½ teaspoon salt, and ¼ teaspoon black pepper. 

Brush the lemon juice over the fish, then coat in the spice mixture.

Heat the remaining tablespoon oil in a large skillet over medium heat. 

Cook the fish in two batches, adding extra oil if necessary, until the fish is beginning to blacken and is opaque throughout, 2 to 3 minutes per side.

Fluff the rice with a fork and fold in the parsley mixture. Serve with the fish and lemon wedges.