Celiac.com 04/23/2014 - I don't eat nearly enough southern-style food, in general, and enough Cajun-style food in particular. One thing I crave is Cajun-style blackened fish.
Fortunately, it's fairly easy dish to recreate at home. This recipe can be made with any good whitefish, like snapper or catfish, but is also good with fresh salmon. Pair it up with some rice, some greens, and a bit of gluten-free corn bread, and you've got the makings of a southern-style feast in your own kitchen.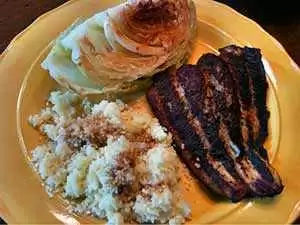 Ingredients:
4-6 Red Snapper, Catfish, or Salmon fillets, skinless
2 cups white rice
3 tablespoons paprika
1½ teaspoons kosher salt
½ teaspoon cayenne pepper
1 teaspoon dried thyme
½ teaspoon garlic powder
½ teaspoon onion powder
3½ tablespoons unsalted butter
juice of 1 lemon
1 11-ounce can corn kernels, drained
1/3 cup finely chopped fresh flat-leaf parsley
1 lemon, cut into wedges
Directions:
Heat oven to 400° F.
Prepare rice in advance, and keep ready.
In a medium bowl, combine the paprika, cayenne, thyme, onion powder, garlic powder, and ½ teaspoon of the salt.
In a saucepan, over medium heat, melt 2 ½ tablespoons of the butter. Add the lemon juice.
Working with 1 salmon fillet at a time, dip the top and bottom halves first in the lemon butter, then in the spices.
Heat a large ovenproof skillet over medium-high heat. Cook the salmon until blackened, 2 minutes per side. Transfer to the oven for 8 minutes.
Stir the corn, parsley, and remaining salt and butter into the rice.
Serve salmon and rice on plates with a garnish of parsley and lemon wedges.