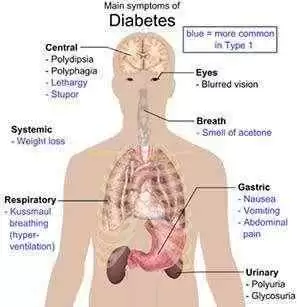 Caption: Image: Wikimedia Commons
Celiac.com 07/14/2014 - Early life intestinal problems have previously been shown to influence diabetes rates. There is also some evidence that a gluten-free diet can lower rates of diabetes, but just how strong is the influence of gluten-free diet on the development of diabetes?

A recent study by a group of researchers in Denmark suggests that maternal gluten-free diet greatly reduces inflammation and rates of diabetes in the offspring of certain mice. This study led the team to hypothesize that a gluten-free diet, which is known to decrease type 1 diabetes incidence, may also offer protection against diabetes when followed during the pregnancy and lactation period.
---
Celiac.com Sponsor (A12):


---
---
Celiac.com Sponsor (A12-m):


---
The research team included Camilla H.F. Hansen, Åukasz Krych, Karsten Buschard, Stine B. Metzdorff, Christine Nellemann, Lars H. Hansen, Dennis S. Nielsen, Hanne Frøkiær, Søren Skov and Axel K. Hansen. They are variously affiliated with the Department of Veterinary Disease Biology of the Faculty of Health and Medical Sciences at the University of Copenhagen, the Department of Food Science, Faculty of Science, University of Copenhagen, the Department of Biology, Faculty of Science, University of Copenhagen, the Division of Toxicology and Risk Assessment of the National Food Institute at the Technical University of Denmark in Søborg, Denmark, and the Bartholin Institute in Copenhagen, Denmark.

For their study, the team fed pregnant non-obese diabetic (NOD) mice either a gluten-free diet, or a standard diet, until all pups were weaned to standard diet. Overall, mice which experienced early life gluten-free diets had dramatically lower rates of diabetes and insulitis.

An analysis of gut microbiota using 16S rRNA gene sequencing showed a major difference between both mothers and their offspring, marked by higher levels of Akkermansia, Proteobacteria, and TM7 in the gluten-free diet group. Gluten-free fed offspring showed increased M2 macrophage gene markers and tight junction-related genes in the gut, along with higher levels of pancreatic FoxP3 regulatory T cells.

Gluten-free offspring also had reduced intestinal gene expression of proinflammatory cytokines. Finding more T cells in the pancreas expressing the mucosal integrin α4β7 suggests that this is due to an increase in gut-primed immune cells moving to the pancreas.

The study shows clearly that a gluten-free diet during the fetal and early postnatal life lowers rates of diabetes. This may be due to a change in gut microbiota and a reduction in pro-inflammatory conditions in the gut and pancreas.

Clearly, further study is needed to better understand the factors at play, and how they relate to diabetes reduction efforts.

Source: