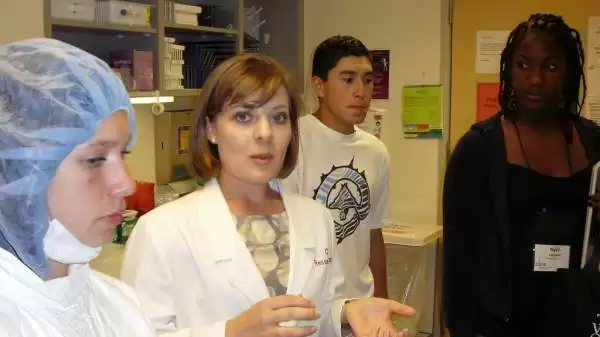 Caption: Research fellows. Image: CC BY 2.0--NWABR
Celiac.com 07/02/2020 - Lack of long-term follow-up after pediatric-adult transition in celiac disease is not associated with complications, ongoing symptoms or dietary adherence, but researchers are calling for more personally tailored follow-ups that can help celiacs who don't follow a gluten-free diet.
People with celiac disease need to follow a life-long gluten-free diet. To make sure that celiac treatment is successful, and that celiacs are properly following a gluten-free diet, doctors recommend regular follow-up for celiac patients. 
---
Celiac.com Sponsor (A12):


---
---
Celiac.com Sponsor (A12-m):


---
A team of researchers recently set out to evaluate the implementation and significance of long-term follow-up. The research team included Laura Kivelä, Sointu Hekkala, Heini Huhtala, Katri Kaukinen, and Kalle Kurppa.

The team collected medical data from 585 patients, and sent follow-up questionnaires to 559 current adult celiac disease patients, who were diagnosed as children. 

The team then compared the diagnostic factors and health outcomes between those adults who got follow-up and those who did not. The data showed that 92% of pediatric celiac patients received follow up 6–24 months after diagnosis. 

A total of 235 adults responded to the questionnaires a median of 18 years after diagnosis, only one in four reported regular celiac follow-ups. Among patients with similar features at diagnosis, those reporting regular follow-ups were diagnosed more recently than those reporting no follow-up. Those reporting follow-ups were less likely to smoke, or to be related to celiac patients, and more likely to be students and/or to have type 1 diabetes. 

Patients who did not receive regular follow-ups did not have more complications, ongoing symptoms, poorer general health or dietary adherence. Most celiac disease patients diagnosed as children do not receive recommended follow-up checks as adults. 

Lack of follow-up was not tied to poorer long-term treatment outcomes in general, but no patients avoiding a gluten-free diet were receiving follow-up checks, so we don't have data on this group. Based on these results, the study team recommends a more personally tailored follow-up of celiac disease treatment.

Do you receive regular medial follow-up checks for your celiac disease? Do you feel that your follow-up treatment is adequate? Share your comments below.

Read more at United European Gastroenterol J. 2020 Mar; 8(2): 157–166

 

The researchers are variously affiliated with the University Consortium of Seinäjoki, Seinäjoki, Finland; Tampere Center for Child Health Research, Tampere University and Department of Paediatrics, Tampere University Hospital, Tampere, Finland; the Department of Internal Medicine at Tampere University Hospital in Tampere, Finland; the University of Helsinki and Helsinki University Hospital, Children's Hospital, and Pediatric Research Center, Helsinki, Finland; and the Faculty of Medicine and Health Technology, the Faculty of Social Sciences, and the Celiac Disease Research Center at Tampere University in Tampere, Finland.