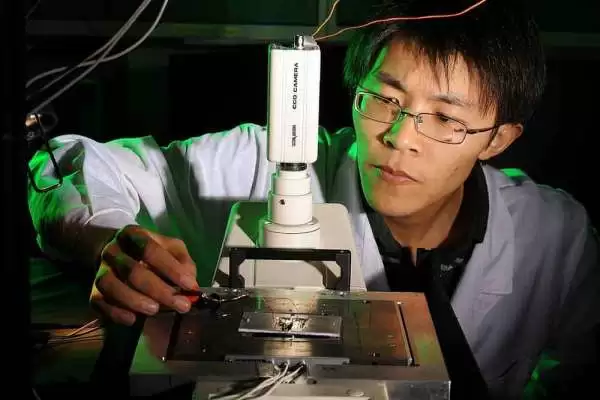 Caption: Image: CC BY-SA 2.0--RMTip21
Celiac.com 10/23/2019 - One approach to celiac disease that's been getting attention lately is the effort to develop ways to prevent the adverse immune reaction that is triggered by gluten that leads to gut damage in untreated celiacs. Several companies have tried that approach, including the promising, but now failed drug NexVax2. The idea is to train the immune system to become tolerant of gluten, kind of like the way allergists train the immune system to tolerate pollen, and thus, reduce or even eliminate allergic reactions.
Data from a recent trial of new medical technology provides encouraging evidence that it is possible for people with celiac disease to achieve an immune tolerance to gluten, effectively reversing the autoimmune disease.
---
Celiac.com Sponsor (A12):


---
---
Celiac.com Sponsor (A12-m):


---
The technology is a biodegradable nanoparticle containing gluten that teaches the immune system the antigen (allergen) is safe. The nanoparticle, called COUR nanoparticle, CNP-101, conceals the allergen in an innocuous cell covering, and convinces the immune system not to attack it.

Celiac patients treated with CNP-101 were able to eat gluten with a substantial reduction in inflammation. The phase 2 results indicate that the treatment protects patients' small intestine from gluten exposure, and point the way toward treatments that could allow celiac patients safely consume gluten in their diet.

In addition to potentially reversing celiac disease, the technology, which uses a nanoparticle containing the antigen triggering the allergy or autoimmune disease, has the potential to treat myriad diseases and allergies, including multiple sclerosis, type 1 diabetes, peanut allergy, asthma, among others.

The research team will present their findings on Oct. 22nd at the European Gastroenterology Week conference in Barcelona, Spain.

The technology was devised in the lab of Stephen Miller, the Judy Gugenheim Research Professor of Microbiology and Immunology at Northwestern University Feinberg School of Medicine, who has refined it over decades.

In addition to providing the first proof that the technology works in patients, the study shows that "we can encapsulate myelin into the nanoparticle to induce tolerance to that substance in multiple sclerosis models, or put a protein from pancreatic beta cells to induce tolerance to insulin in type 1 diabetes models," said Miller. 

The technology works by causing the immune system to see the allergen-loaded nanoparticle as innocuous debris, and to disregard it. Once ignored, the nanoparticle and its hidden antigen get eaten by a macrophage, kind of a garbageman that rids the body of cellular debris and pathogens.

"The vacuum-cleaner cell presents the allergen or antigen to the immune system in a way that says, 'No worries, this belongs here,'" Miller said. "The immune system then shuts down its attack on the allergen, and the immune system is reset to normal."

In the celiac trial, Miller's team loaded the nanoparticle with gliadin, the protein in gluten that triggers the adverse reaction in people with celiac disease.

After a week of treatment, the patients consumed gluten for two weeks. Untreated celiac patients who ate gluten showed clear immune responses to gliadin and related damage to the small intestine. Meanwhile, celiac patients treated with CNP-101 showed 90% less immune-related inflammation than untreated patients. By preventing the inflammatory response, CNP-101 showed the ability to protect the gut from gluten-related damage.

Most autoimmune diseases are currently treated with immune suppressants, which lessen symptoms, but degrade the immune response and carry the potential for toxic side-effects. CNP-101 does not work by suppressing the immune system, but by preventing the inflammatory response, and thus reversing the course of the autoimmune disease.

Celiac disease a perfect target for the nanoparticle induced immune tolerance approach, because the triggers are well documented, and the disease has no other treatment than a gluten-free diet.

CNP-101 has been granted Fast Track status by the U.S. Food and Drug Administration, and brought to patients in collaboration with Takeda Pharmaceuticals, which has acquired an exclusive global license to develop and commercialize this treatment for celiac disease.

In addition to celiac disease, COUR is looking to develop treatments for peanut allergy and multiple sclerosis, and to expand their offerings to other autoimmune conditions, said John J. Puisis, president and chief executive officer of COUR.

Read more in ScienMag.com