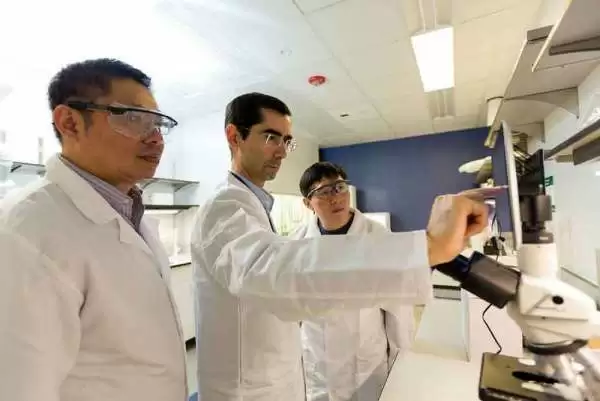 Caption: Image: CC BY 2.0--NIH-NCATS
Celiac.com 09/25/2019 - Current research suggests that interleukin 15, aka IL-15, plays a key role in celiac disease. AMG 714 is the first anti-IL-15 monoclonal antibody to be assessed as a potential treatment for celiac disease. A new study looks at safety and efficacy of AMG 714 in adults with celiac disease exposed to gluten challenge.
A team of researchers recently set out examine the effects of AMG 714 in celiac patients who underwent a gluten challenge. The research team included Marja-Leena Lähdeaho, MD, Prof Mika Scheinin, MD, Pekka Vuotikka, MD, Juha Taavela, MD, Alina Popp, MD, Johanna Laukkarinen, MD, Jukka Koffert, MD, Olli-Pekka Koivurova, MD, Prof Marko Pesu, MD, Laura Kivelä, MD, Zsófia Lovró, MD, Joni Keisala, MD, Prof Jorma Isola, MD, Jane R Parnes, MD, Francisco Leon, MD, and Prof Markku Mäki, MD.
The team relied on three clinical sites in Finland to conduct their randomized, double-blind, placebo-controlled, parallel-group, phase 2a trial. They included subjects aged 18–80 years, with a confirmed celiac diagnosis, who had been on gluten-free diet for at least one year before screening. 
They randomly assigned patients to receive 150 mg AMG 714, 300 mg AMG 714, or a placebo using permuted blocks and stratified by study site and sex. Patients and study staff were blind to treatment assignment. Treatments included two subcutaneous injections every 2 weeks for 10 weeks, for a total of six doses. 
Patients without severe villous atrophy at baseline received a gluten challenge of 2–4 grams daily, from weeks 2–12. The team used small bowel biopsy samples to assess patient histology at baseline and at week 12. 
The main measurement of efficacy was the rate of change in villous height-to-crypt depth (VHCD) ratio from baseline to week 12.
Other factors included CD3-positive intraepithelial lymphocyte density; clinical symptoms measured by gastrointestinal symptom rating scale (GSRS), celiac disease GSRS, Bristol stool form scale (BSFS); along with changes in anti-tTG and anti-DGP antibodies from baseline. 
The main analysis focused on per-protocol 1 patients who received at least one dose of study drug, and who completed the gluten challenge. All patients who received at least one dose of study drug underwent a safety analysis. This trial is registered at ClinicalTrials.gov, NCT02637141 and EudraCT, 2015-003647-19.
Between April 13, 2016, and Nov 22, 2016, a total of 64 patients were enrolled and randomly assigned to either the 150 mg AMG 714 group, the 300 mg AMG 714 group, or the placebo group. Two patients did not start treatment and two did not provide post-treatment biopsy samples. Forty-nine patients underwent the gluten challenge (per-protocol 1 population) and 11 patients did not because of baseline villous atrophy. AMG 714 did not prevent mucosal injury due to gluten challenge. 
The primary endpoint was change in VHCD ratio from baseline after 12 weeks of treatment in patients with celiac disease undergoing gluten challenge, and was not significantly different between placebo and AMG 714 at either 150 mg or 300 mg. 
This study's revelations about the effects on intraepithelial lymphocyte density and symptoms suggest that further research of AMG 714 should be done in patients with non-responsive celiac disease.
Read more in The Lancet