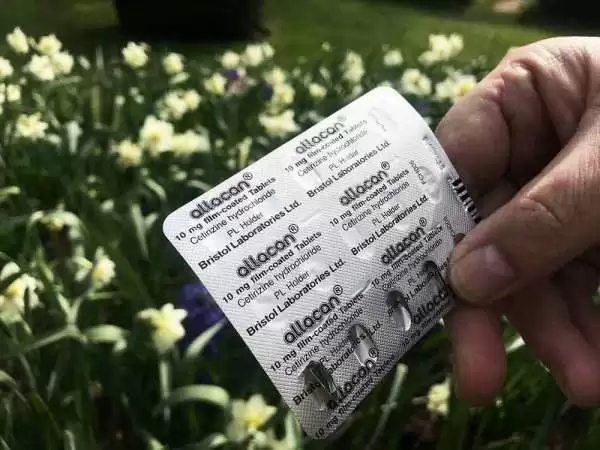 Caption: Image: CC--Chemist 4 U
Celiac.com 08/12/2019 - People with certain types of diarrhea may respond to antihistamine treatment, according to a recent case series published online in Annals of Allergy, Asthma & Immunology. Up to 5% of adults suffer from chronic diarrhea, while a small subset of those patients suffer from idiopathic postprandial diarrhea (PPD)--diarrhea with sudden onset, and unknown origin.  Diarrhea is one of the most common complaints and symptoms for people with celiac disease.
"Antihistamine-responsive PPD is seen in patients with chronic idiopathic urticaria and/or dermatographia and can be distinguished from mast cell activation syndrome (MCAS)," write Yasmin Hassoun, MD, University of Cincinnati, Ohio, and colleagues.
All five patients had concurrent dermatographia. Three patients (two female and one male) also had a current or prior history of chronic urticaria, and three women had a current or previous history of angioedema. None of the patients had experienced an initial triggering event such as viral illness. 
In all five cases, diarrhea occurred only after meals or snacks, and within 3 hours of eating. None of the patients showed any evidence of food allergy or food intolerance. 
The team screened four of the five patients for food-specific IgE, and all four tested negative. Three of the patients eliminated lactose and other common allergens with no change in symptoms. 
The team conducted tests for anti-tissue transglutaminase IgA and serum tryptase in four patients, 24-hour urinary prostaglandin F2α in three patients, and 24-hour urinary N-methylhistamine in two patients. All test results came up normal. Four patients also received upper endoscopy and colonoscopy, which revealed lesions in two patients. 
One 55-year-old woman had lymphocytic colitis and a 63-year-old woman had gastric inflammation and ulcers. However, none of these pointed to any underlying GI condition that might to explain the chronic bouts of diarrhea.
Until researchers can conduct more randomized, placebo-controlled trials doctors should consider PPD when assessing "patients presenting with food intolerance after excluding food allergy and other gastrointestinal (GI) disorders," adds Dr. Hassoun.
Read more in the Annals of Allergy, Asthma & Immunology