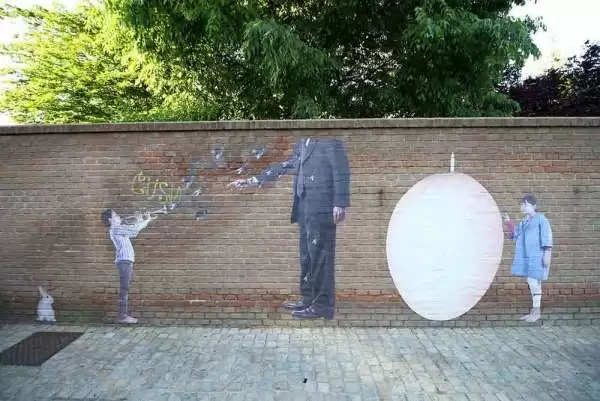 Caption: Wall art in Bologna. Image: CC BY 2.0--Antonella Morrone
Celiac.com 06/03/2020 - Bifidobacterium breaks down gluten in the gut, and reduces toxicity and inflammation. Could bifidobacteria-based probiotics could play a role in the treatment of celiac disease?
When people with celiac disease eat gluten, they usually experience inflammation, and, if untreated, damage to the gut. Recent studies indicate that people with celiac disease may have lower levels of bifidobacteria in the intestinal lumen. A team of researchers recently set out to investigate the digestion of intact gluten proteins by various species of bifidobacterium.
---
Celiac.com Sponsor (A12):


---
---
Celiac.com Sponsor (A12-m):


---
The research team included Natália Ellen Castilho de Almeida, Franciele Grego Esteves, José Roberto Aparecido dos Santos-Pinto, Carla Peres de Paula, Anderson Ferreira da Cunha, Iran Malavazi, Mario Sergio Palma, and Edson Rodrigues-Filho. They are variously affiliated with the Federal University of São Carlos, São Carlos, São Paulo, Brazil.; Department of Chemistry, Federal University of São Carlos (UFSCar), São Carlos, São Paulo, Brazil; Center of Study of Social Insects, Department of Biology, Institute of Biosciences of Rio Claro, São Paulo State University (UNESP), Rio Claro, São Paulo, Brazil; and the Department of Genetics and Evolution, Biotechnology Graduate Program (PPGBiotec), Federal University of São Carlos, São Carlos, São Paulo, Brazil.

In their paper, the research team describes the ways in which Bifidobacterium bifidum, Bifidobacterium longum, Bembidion breve, Bifidobacterium animalis, alone and also a Bifidobacterium combination, influence the digestion of complete gluten proteins, and also affect the related immunomodulatory responses caused by the generated peptides. 

The team assessed cytotoxicity and proinflammatory responses by studying NF-kB p65 activation, and TNF-α and IL-1β cytokine expression in Caco-2 cell cultures exposed to gluten-derived peptides. 

The peptides successfully reduced cytotoxic action and proinflammatory marker levels compared with gluten fragments created during non-inoculated digestion. These results indicate that bifidobacteria-based probiotics could play a future role in the treatment of celiac disease.

Read more in the Journal of Agricultural and Food Chemistry, 2020, 68, 15, 4485-4492