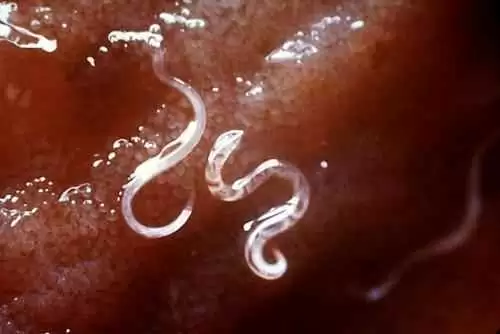 Caption: Hookworms might yield treatments for celiac disease and asthma. Photo: Wiki Media Commons.
Celiac.com 11/30/2016 - Trials using hookworm as a possible treatment for celiac disease are already underway in Australia, but they latest hookworm news indicates that they might also be useful for treating asthma.
The New World hookworm, aka necator americanus, is long and slender as an angel hair noodle. Adults are large enough to be seen with the naked eye. Seen up close, they look more like the sand worms in the movie Dune than anything people are used to seeing here on earth.
---
Celiac.com Sponsor (A12):


---
---
Celiac.com Sponsor (A12-m):


---
Researchers are reporting that a protein produced by hookworms reduces the symptoms of asthma in mice, and could one day be used to treat asthma in humans, says the journal Science Translational Medicine. These parasites are some of the most maligned creatures in the animal kingdom. They chew into the human intestinal wall and suck blood to survive, but they just might be the key to making millions of people healthier.

Says Severine Navarro, the paper's lead author and a senior research fellow at James Cook University in Australia, data from immunological studies shows that populations with no parasites also have "the highest incidence of autoimmune diseases and allergies." The data in this study arose from an effort by Navarro and her fellow researchers to look for a connection between success of de-worming programs around the world and the rise of immune system problems like asthma and celiac disease.

Among other things, when hookworms infect humans, they secrete chemicals that turn off the immune alarm bells and repair the tissue around it. The worms limit blood consumption to a few drops a day and keeps its own numbers in check by plants offspring in the host's poop to ensure an orderly exit from the body.

Navarro and her team wonder if the hookworm's stealthy adaptations also benefit their host by controlling in adverse immune reactions. The team's initial small study of one dozen trial participants showed that the hookworm did improve their tolerance of gluten.

Since infecting large numbers of patients directly with hookworm might lead to other issues, the team isolated the active ingredient in hookworm spit - a compound called AIP-2 - and injected it into asthmatic mice on a daily basis for five days. Results showed a sharp decline in asthma symptoms, and reduced inflammation in airways. These benefits persisted for 10 weeks after the mice stopped getting the treatment.

The researchers also noticed that AIP-2 seemed to have a calming effect on the body's dendritic cells - a part of the immune system responsible for processing threats. According to Navarro, the drug works by "basically rewiring the cells in that tissue into promoting very efficient regulatory T cells." This suggests that AIP-2 might also help humans, since dendritic cells have the same function in us that they do in mice.

Navarro said the team's next step is a phase one clinical trial, which would test the effectiveness of an AIP-2 pill. Successful phase one trials will lead the way toward a safe drug that could help tens of millions of asthma sufferers. As seen in earlier studies using hookworm, the compound might be useful in treating autoimmune disorders, like celiac disease, inflammatory bowel disease and multiple sclerosis.

Read more on hookworms and celiac disease.

Source: