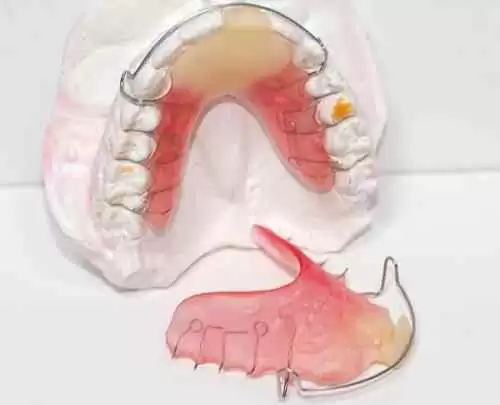 Caption: Image: CC--S J Pyrotechnic
Celiac.com 12/14/2016 - Just when you think you've heard everything, something brand new enters the arena. When it comes to non-dietary sources of gluten, I think of things such as lipstick (it's not a food but we still eat some of it), Play-Doh (also not a food but if you've ever seen children playing with it, you'll note that some ingestion occurs), and some cosmetic items like body lotions and shampoos. The skin does 'ingest' what you put on it and we've definitely seen negative reactions from topical application of gluten-containing ingredients. But prior to becoming acquainted with a recent published paper in Clinical Pediatrics, my list of non-dietary sources of gluten would likely have ended there.
This brand new study entitled "An orthodontic retainer preventing remission in celiac disease" gives it all away in the title… or does it?
Brilliantly, someone thought to suspect her retainer, which contained a plasticized methacrylate polymer. It turns out that gluten is a common additive to plastics. And despite the idea that a hard plastic would be stable, it turns out that nothing could be further from the truth.
After discontinuing use of her retainer, not only did her symptoms resolve, but so too did her blood and biopsy findings become normal.
I did a little digging and this specific form of plastic is used in more than just retainers. It's found in dentures, white dental fillings, hard lenses for the eye in the treatment of cataracts, hard and some soft contact lenses, as a bone cement in orthopedic surgery, in cosmetic surgery as fillers, and more.
The history behind the use of this plastic is rather interesting. It turns out that during World War II pilots flew in planes that had side windows made from this particular type of plastic (abbreviation PMMA). When they were shot at, splinters from the windows lodged in the pilots eyes. Unlike glass splinters that did create problems, the plastic caused no rejection by the eyes. This human tissue compatibility was then used for cataracts, contact lenses, etc.
If you know of someone who continues to be ill despite a strict gluten-free diet, looking into non-dietary forms of gluten may yield the answer to their problem.
I hope you found this informative. If you have any questions feel free to contact me. If you need assistance with your health, consider contacting us for a free health analysis – 408-733-0400. We are a destination clinic and treat patients from across the country and internationally. You don't need to live local to us to receive assistance. We're here to help!
To your good health!
Reference:
Clinical Pediatrics. 2013 Nov; 52(11):1034-7. doi: 10.1177/0009922813506254. An orthodontic retainer preventing remission in celiac disease. Memon Z, Baker SS, Khan A, Hashmi H, Gelfond D.