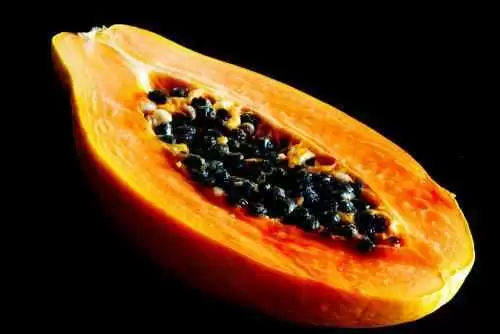 Caption: Photo: CC--Jar[o]
Celiac.com 12/14/2017 - Can enzyme supplements help people with gluten sensitivity, including those with celiac disease? An Australian company is touting the results of a recent randomized, double blind study that supports enzyme supplements might be helpful for celiac patients in certain circumstances.
The enzyme supplement was designed for people with celiac disease to use when facing likely or possible exposure to gluten, such as when traveling or eating food prepared outside their direct control. The company is careful to state that "enzyme supplementation won't cure celiac disease, and sufferers still need to avoid gluten." But the evidence from the two most recent studies does suggest that the product does help digest dietary gluten and could make life much easier for many people with celiac disease.
---
Celiac.com Sponsor (A12):


---
---
Celiac.com Sponsor (A12-m):


---
The product, called GluteGuard, is based on a papaya fruit enzyme called caricain. This enzyme is shown to be helpful for celiac patients. A 2015 study showed adding caricain to bread dough reduced gluten toxicity to gluten by 90% for celiac patients.

GluteGuard was recently evaluated in two clinical studies in Poland. The first study looked at 20 patients with celiac disease who were in clinical remission on a gluten-free diet. In that study, all patients ate one gram of gluten, equal to about one slice of bread, each day for 42 days, with 14 patients also taking GluteGuard and six taking a placebo tablet. Patients noted their symptoms and well-being each day, and received biopsies both before and after the study. Thirteen of the 14 celiac patients (93%) taking GluteGuard showed no adverse changes in clinical symptoms, biopsy results or well-being throughout the 42 day trial. Only one GluteGuard patient withdrew due to celiac-associated symptoms, while 4 of 6 taking placebo withdrew after 14 days due to adverse celiac symptoms.

The second Polish study looked at the effectiveness of GluteGuard in patients with dermatitis herpetiformis, a gluten-triggered skin condition common in celiac patients. As with the first study, all patients in these study were in clinical remission. Patients consumed around six grams of gluten daily for seven days, with ten patients also receiving GluteGuard tablets and ten getting a placebo.

The GluteGuard showed better results compared with the placebo group, with 81% showing no increase in areas of skin lesions and 71% showing a reduction in the appearance of skin lesions. The GluteGuard group also showed a 38% reduction in skin itchiness. Of the seven patients who withdrew from the study due to gluten symptoms, six were taking placebo.

Both clinical trials met high scientific standards. In both studies, participants were randomly allocated to receive the treatment or placebo, and neither the participants nor the researchers knew owhich patient was receiving which intervention.

So, yes, enzyme supplements may provide some help for people with celiac disease, especially as a hedge against minor or occasional gluten ingestion. So far though, they are not a magic bullet, and cannot replace a gluten-free diet.

Read more at Medicalexpress.com.