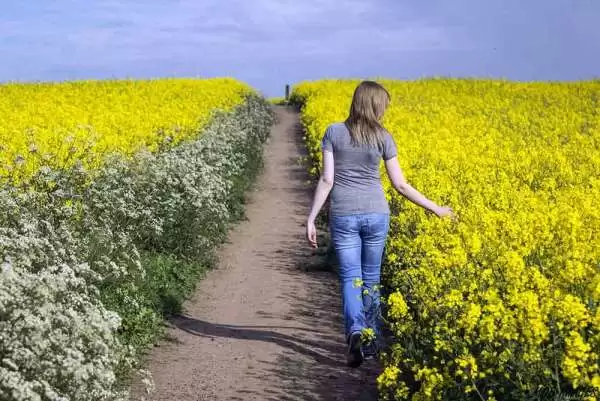 Caption: Rapeseed fields. Image: CC--Mathew Bedworth
Celiac.com 04/02/2019 - Anyone familiar with gluten-free bread knows the downsides. Dry structure, questionable texture, and sometimes inferior taste. Can plant proteins help to change that? Two groups in the UK, Innovate UK and Coeliac UK, are joining forces to develop gluten replacements from UK-grown crops. 
The Nandi Proteins-led consortium includes Genius Foods, ingredients business AB Mauri, agronomy firm Agrii, Heriot-Watt University in Edinburgh. The project will focus on three ingredients currently underused by the food industry: fava beans, rapeseed by-products, and naked oats. As part of that goal, Nandi Proteins will use its proprietary technology to create protein concentrates from the raw materials.
The project is looking to turn lower cost by-products into high value ingredients that can improve the qualities of gluten-free bread. In addition to utilizing natural ingredients that are currently discarded or scarcely used, the project may help gluten-free bread manufacturers to reduce the number of additives in gluten-free breads.
Once Nandi creates functional proteins, Genius Foods and AB Mauri will begin testing ingredients, and looking to produce better, more commercially viable bread formulas. The goal is better gluten-free bread, and, ideally a better foothold in the gluten-free market for the manufacturers. Success could be a win for consumers looking for better gluten-free breads.
Efforts Nandi and its partners will help the UK lead the way in industrial production of innovative gluten-free ingredients, Coeliac UK chief executive Sarah Sleet told reporters.
Read more at FoodNavigator.com