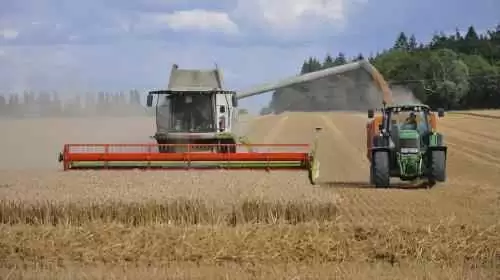 Caption: Can anything help falling global wheat prices? Photo: CC--Martin Pettitt
Celiac.com 10/24/2017 - Global wheat prices are plummeting in the wake of massive overstocks and anemic consumption. The problem is serious enough that Canada, the world's top producer of durum wheat, has cut its production nearly in half, to a six-year low.
Even those drastic measures have had failed to raise prices, which are down about 30 percent from 2016.
This comes at a time when consumers are buying less wheat products, as more and more people are adopting gluten-free, and low-carbohydrate diets.
Italy is not the only problem for wheat growers, and durum is not the only variety to be hit by the reduction in demand.
Weak demand overall will drive total global wheat stockpiles up to a record 263.4 million metric tons in 2017, according analysts surveyed by Bloomberg.
Those predictions exceed estimates made by the U.S. Department of Agriculture, and the agency has already taken steps to revise its earlier estimate.
According to Neil Townsend, a senior analyst at FarmLink in Winnipeg, Manitoba, Italy's plan is "just another nail in the coffin" to industry efforts to incrementally grow demand.
After slowly bouncing back from the Atkins diet craze, the wheat industry is now "kind of getting gnawed away by the gluten thing. There's just no growth," said Townsend.
Source: