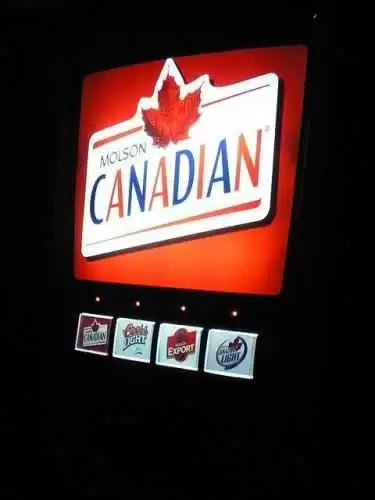 Caption: New gluten label rules meet strong opposition by Canadian Beer Industry. Photo: CC-jaygoldman
Celiac.com 02/03/2011 - Okay, so Canadians take their beer seriously. Beer being one of the few things that might stoke the passions of some Canadians almost as much as, say, hockey.
So, proposed health regulations that would require beer labels to include a warning that beer is made with barley or wheat have the Canadian beer industry in a froth.
The proposed rules are part of a larger set of regulatory changes Health Canada is seeking to make it easier for people with allergies to identify potential allergens in food ingredients.
Health Canada statistics indicate that up to six per cent of children and up to four per cent of adults in Canada are believed to be affected by food allergies.
People with serious allergies can go into shock or even die if they consume certain ingredients. Beer-label warnings are aimed especially at people with celiac disease.
The proposed rules would require beer labels to "clearly and prominently" display a warning that says, "Allergy and intolerance information: Contains wheat."
Barley-based beer labels would be required to include a warning that says, "Allergy and intolerance information: Contains barley."
Canadian beer companies say the measure is not necessary, pointing out that people with celiac disease represent only about one per cent of the Canadian population, and tend to be well informed about the foods they should avoid.
"These people are very well educated," said Andre Fortin, a spokesman for the Brewers Association of Canada, whose members produce 97 per cent of the beer brewed in Canada. "If a Canadian doctor diagnoses you with celiac disease, you're going to know that beer is not ideal for your system."
The companies also point out small breweries might be hit especially hard by the labeling regulations. A number of breweries such as Steam Whistle Brewery and Mill St. Brewery sell their beer in vintage-style glass bottles with ceramic paint, which beer stores return to the companies, to clean and refill for reuse. Such companies might have to order new bottles to accommodate such regulations. The move could cost them millions of dollars, they say.
However, for people who support allergy labeling requirements, the matter is serious. "This isn't just a bunch of fusspots," said Gwen Smith, editor of Allergic Living, a magazine and website that has long lobbied for the regulations. "This is about, 'How do I feed my children at dinner safely?' 'How do I feed myself?'"
In addition to beer, new rules will apply to allergens derived from a wide range of foods, including almonds, cashews, hazelnuts, pecans, pistachios, sesame seeds, eggs, milk, soybeans, crustaceans, shellfish and fish.
A review conducted nearly a decade ago for Health Canada estimated that implementing the proposed regulations would cost the Canadian food industry $102 million over two years, with annual costs of $13 million. The department expects the changes will cost the Canadian Food Inspection Agency $3 million annually, and Health Canada about $1 million per year.
Health officials say that the cost of the implementing the proposed rules could be offset by some cost savings for the health-care system, since people with allergies would require less treatment. The department says the regulations are similar to those already in place in the United States, Europe, Australia and New Zealand.
A spokesman said that after publication of the final version of the regulations, the food industry will have 18 months to comply.
"The new labeling regulations are designed to ensure that consumers have the information they need to make appropriate choices and that this information is provided in a clear and consistent manner," the department said in a statement.
Read more: Canada.com