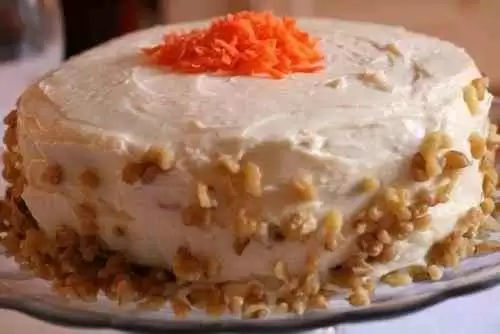 Caption: Photo: CC/thebittenword
This is one recipe to keep in your recipe collection; especially if you love carrot cake as much as I do. The best thing about this recipe is that it is of course gluten-free, but also dairy-free. There is also an option for nut-free if you leave out the walnuts (adapted from Elana's Pantry recipe).
Cake Ingredients:
3 cups blanched almond flour
1¾  teaspoons salt
1 teaspoon baking soda
1 tablespoon cinnamon
1 teaspoon nutmeg
5 eggs
½ cup agave nectar
¼ cup grapeseed oil
3 cups carrots, grated
1 cup raisins
1 cup walnuts
---
Celiac.com Sponsor (A12):


---
---
Celiac.com Sponsor (A12-m):


---
To make cake:
 In a large bowl, combine almond flour, salt, baking soda, cinnamon and nutmeg.
 In a separate bowl, mix together eggs, agave and oil.
 Stir carrots, raisins and walnuts into wet ingredients.
 Stir wet ingredients into dry.
 Place batter into 2 well greased, 9 inch round cake pans.
 Bake at 325° F for 35 minutes
Dairy-Free Cream Frosting:
1 cup coconut milk
1 cup agave nectar
â…› teaspoon salt
5 teaspoons arrowroot powder
1 tablespoon water
1¼ cup coconut oil
To make frosting:
In a medium saucepan, heat coconut milk, agave and salt, simmer for 10 minute.
In a small bowl, combine arrowroot and water to form a smooth paste.
Pour arrowroot mixture into saucepan.
Mix contents of saucepan with a hand blender and bring to a boil, briefly.
Remove pot from heat and very gradually blend in coconut oil.
Place pot in freezer for approximately 30 minutes, until frosting solidifies and turns white.
Remove from freezer and blend again, until fluffy.
Spread over cooled cake and enjoy!