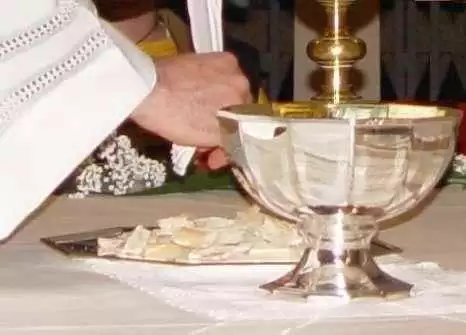 Caption: Photo: Wikimedia Commons--G. Sfasie
Celiac.com 11/26/2014 - Catholics with celiac disease received some hopeful news recently, when the U.S. Conference of Catholic Bishops voted overwhelmingly in favor of drafting of a revision to the Guidelines for the Celebration of the Sacraments with Persons with Disabilities. The vote was 207 bishops in favor and one against, with one abstention.

The bishops voted to change the guideline to accommodate people with celiac disease and others who cannot consume wheat, and have been unable to take full communion.

Because churches are required to serve communion wafers that contain wheat, numerous people have been unable to consume the wafers, and have thereby been missing out on what many deem to be a crucial part of communion.

Some Catholic churches have tried to accommodate people with celiac disease and gluten sensitivities by offering low-gluten communion wafers. However, even the low-gluten versions approved by the church generally did not meet the FDA standards requiring less than 20 parts per million of gluten, and were thus unacceptable to many with celiac disease or severe gluten sensitivity. For these people, even small amounts of the wheat gluten can cause health problems.

Exactly what changes the bishops will make regarding the Eucharistic wafer remain to be seen. Ideally, the new guidelines will permit wafers that are safe for people with celiac disease, and which will permit them to enjoy full communion.

How do you feel about this? Is it welcome news? Do you know any catholics who've been missing out on communion? Stay tuned for more news on the new guidelines.

Here, you'll find a copy of the November 2014 USCCB General Assembly Agenda Item Vote Results.