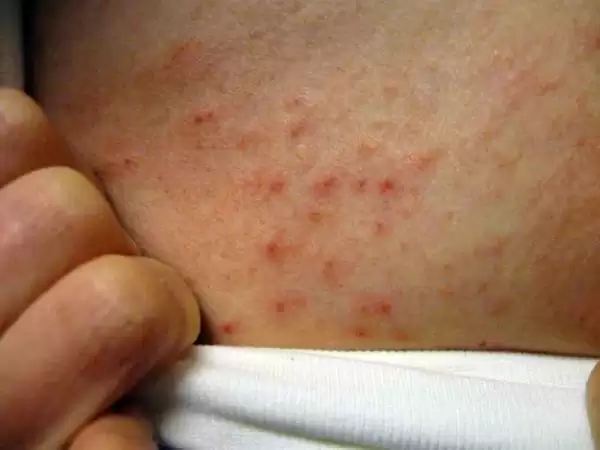 Caption: Image: Photobucket--janerane
Celiac.com 11/07/2018 - A team of researchers recently set out to explore the relationship between dermatitis herpetiformis, as a common extraintestinal manifestation of celiac disease, and a gluten-free diet as a path to overall dermatitis herpetiformis improvement.
Dermatitis herpetiformis is a condition marked by itchy papules and vesicles on the elbows, knees, and buttocks. Dermatitis herpetiformis is a common in people with celiac disease.
People who have just dermatitis herpetiformis alone rarely have obvious gastrointestinal symptoms. Dermatitis herpetiformis is easily diagnosed by immunofluorescence biopsy showing pathognomonic granular immunoglobulin A (IgA) deposits in the papillary dermis. 
One theory currently in play is that dermatitis herpetiformis is triggered by celiac disease in the gut and eventually develops into an immune complex deposition of high avidity IgA epidermal transglutaminase (TG3) antibodies, together with the TG3 enzyme, in the papillary dermis. 
The age at which people are diagnosed with dermatitis herpetiformis has risen steeply in recent decades to the current average of 40–50 years. 
The researchers found that the ratio of dermatitis herpetiformis to celiac disease is 1:8 in Finland and the United Kingdom (U.K.). Additionally, the incident rates of dermatitis herpetiformis are currently 2.7 per 100,000 in Finland and 0.8 per 100,000 in the U.K., is decreasing, whereas incidents of celiac disease are on the rise. 
One positive finding is that Dermatitis herpetiformis patients who are on a gluten-free diet face an excellent long-term outlook, with an even lower mortality rate than the general population.
Read more in: Nutrients 2018, 10(5), 602; doi:10.3390/nu10050602