Image Caption: Photo: CC - GreenFlames09
Celiac.com 01/04/2012 - A number of cases have led researchers to suspect a connection between eosinophilic esophagitis and celiac disease in children.

A research team sought to confirm this association in children, and determine whether it extends into adulthood. To do this, they reviewed data from a group of celiac disease patients to learn the number of patients who also had a diagnoses of eosinophilic esophagitis.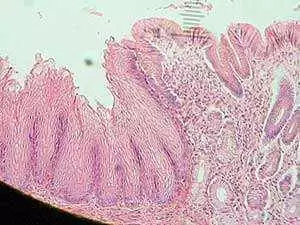 The team included Jennifer S. Thompson, MD, Benjamin Lebwohl, MD, MS, Norelle Rizkalla Reilly, MD, Nicholas J. Talley, MD, PhD, Govind Bhagat, MD, and Peter HR. Green, MD.
For their study, they reviewed histopathology reports of esophageal biopsies to identify all cases of increased esophageal eosinophilia.
The team defined cases of eosinophilic esophagitis as those where biopsies showed Z15 eosinophils per high power field and, which also included associated symptoms.
Using published US population-derived incidence data as a reference, they formulated age- and sex-adjusted standardized incidence ratios with corresponding 95% confidence intervals (CI).
In all, the team found 4 children and 10 adults with eosinophilic esophagitis, which makes eosinophilic esophagitis more common in people with celiac disease than in the general population.
Standardized incidence ratio was 35.6 (95% CI, 9.3-79.0) for children, and 13.1 (95% CI, 6.2-22.5) for adults. Overall, age-adjusted and sex-adjusted standardized incidence ratio was 16.0 (95% CI, 8.7-25.5).
This study found higher rates of eosinophilic esophagitis in patients with celiac disease than in the general population. The researchers advise doctors to consider the possibility of eosinophilic esophagitis for celiac disease patients who suffer ongoing esophageal problems.

Source: