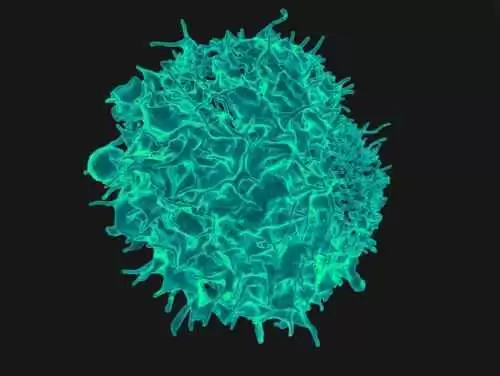 Caption: Photo: CC--Niaid.jpg
Celiac.com 07/03/2017 - Refractory celiac disease (RCD) is a serious complication of celiac disease. There are two types, RCD I, and RCD II. Unlike RCD type I, RCD type II often leads to enteropathy-associated T-cell lymphoma (EATL), which is associated with clonally expanding T-cells that are also found in the sequentially developing EATL.
Using high-throughput sequencing (HTS), a team of researchers recently set out to establish the small-intestinal T-cell repertoire (TCR) in celiac disease and RCD to unravel the role of distinct T-cell clonotypes in RCD pathogenesis.
They are variously affiliated with the Institute of Pathology, Charité-University Medicine, Berlin, Germany, the Department of Gastroenterology, Infectious Diseases and Rheumatology, Charité-University Medicine, Berlin, Germany, HS Diagnomics GmbH, Berlin, Germany, the Center for Tumor Medicine, Charité-University Medicine, Berlin, Germany, the Institute of Pathology, University of Würzburg, and Comprehensive Cancer Center Mainfranken (CCCMF), Würzburg, Germany, the Berlin Institute of Health, Berlin, Germany, the Berlin-Brandenburg School for Regenerative Therapies, Berlin, Germany.
Their team examined DNA extracted from duodenal mucosa specimens of 9 control subjects, 10 active celiacs, 9 celiacs on a gluten-free diet, 8 RCD type I patients, 8 RCD type II patients, and 3 unclassified Marsh I cases collected from 2002 to 2013. To make their examination, they used TCRβ-complementarity-determining regions 3 (CDR3) multiplex PCR, followed by HTS of the amplicons.
They generated an average of 106 sequence reads per sample, consisting of up to 900 individual TCRβ rearrangements.
In RCD type II, the most frequent clonotypes (sequence reads with identical CDR3) represent about 43% of all TCRβ rearrangements. This was substantially higher than in control subjects (6.8%; p
Repeat endoscopies in individual patients showed that the clonotypes remain stable for up to a few years without clinical symptoms of EATL. Individual patients with RCD type II showed unique dominant clonotypes that were un-related among patients. Celiac-associated, gliadin-dependent CDR3 motifs were only detectable at low frequencies.
TCRβ-HTS analysis unravels the TCR in celiac disease, and allows for detailed analysis of individual TCRβ changes.
Patients with RCD type II have unique, dominant TCRβ sequences that are critically different from known gliadin-specific TCR sequences, which indicates that these clonal T-cells expand on their own, with no influence from gluten stimulation.
Source: