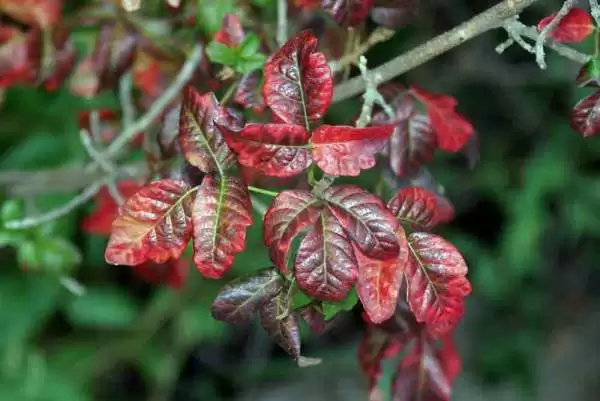 Caption: Some with DH claim it feels as bad as getting poison oak. Image: CC BY-SA 2.0--DavidDennisPhotos.com
Celiac.com 07/09/2020 - Celiac disease is an autoimmune disease that occurs in genetically predisposed individuals. It is estimated to affect 1 in 100 people worldwide, and is treated by a gluten-free diet. However, there's also dermatitis herpetiformis (DH) to consider, which is basically celiac disease of the skin instead of the intestines. 
It's a skin condition characterized by groups of itchy blisters that commonly occur on pressure points such as the elbows, the front of the knees, the buttocks, back, shoulders, face, and scalp. However, they can occur anywhere on the body. Dermatitis herpetiformis is eruptions can be very painful, and the itchy rashes may progress to red, raised patches of skin that can develop into small, watery blisters.  
---
Celiac.com Sponsor (A12):


---
---
Celiac.com Sponsor (A12-m):


---
To get a DH diagnosis you need to make an appointment with a gastrointestinal (GI) doctor and a dermatologist. Note that you need to continue to consume gluten until all tests for celiac disease and DH are concluded, and for DH a doctor will take a skin biopsy. (It should heal relatively quickly, with very little scarring.) Then, a lab will use dye to see if you have IgA in a particular type of pattern. This tells your doctor whether you have dermatitis herpetiformis or not. They can help you to get the inflamed reaction under control with cortisone (a steroid), while you simultaneously begin your lifestyle adjustment of not eating wheat, rye, barley, oats, and even dairy (specifically casein because the protein is very similar to that in gluten.) 

After diagnosis you will need to maintain a 100% gluten-free diet, and you'll need to use topical products that are gluten-free as well. Be sure to double check your makeup (lipstick, mascara, eyeshadow, eyeliner, blush, etc.), hand lotions, facial wipes, detergents, soaps, sanitizers, perfumes, bug spray, sunblock, and much more.

Basically, what it comes down to is reading all ingredients, checking FAQ sections on websites, and calling the manufacturer directly to question cross contamination procedures. Taking these extra precautions will help to keep your skin clear, smooth, and free from continuing outbreaks.  

However, even with doing all of the above the healing time can be different for everyone. Some individuals heal in a few months, while some take a couple of years. Even if you're clear for years but accidentally get gluten from cross contamination, you could suffer another outbreak. This is why it's very important to be extra focused on your nutrition and beauty products after a positive DH diagnosis. 

A picture of DH from one of our forum members "amine33".
References: