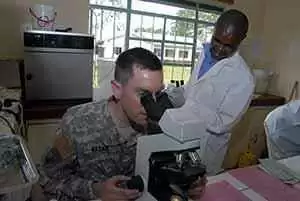 Image Caption: Photo: CC--US Army Africa
Celiac.com 10/24/2012 - Doctors can face challenges when attempting to diagnose celiac disease in patients who have already begun a gluten-free diet, and/or when the results of tests are inconsistent.

To better understand this problem, a group of researchers set out to assess the benefits of an in vitro gliadin challenge.
The research team included Raffaella Tortora, MD, Ilaria Russo, PhD, Giovanni D. De Palma, MD, Alessandro Luciani, PhD, Antonio Rispo, MD, Fabiana Zingone, MD, Paola Iovino, MD, Pietro Capone, MD and Carolina Ciacci, MD.
The study cohort included 57 patients without celiac disease, 166 patients with untreated celiac disease, 55 patients with celiac disease on a gluten-free diet, and 59 patients with challenging diagnosis.
The team provided all patients with endoscopy for collection of duodenal samples, which served for the diagnosis of celiac disease and for the in vitro evaluation of the gliadin-induced mucosal expression of seven inflammatory markers: PY99, ICAM-1 (intercellular cell adhesion molecule), HLA-DR, CD3, CD25, CD69, and transglutaminase 2 IgA.
Diagnostic work-up for celiac disease included the search of specific serum antibodies. Researchers asked patients in the challenging diagnosis group to stop gluten-free diet to facilitate the search for these antibodies under untreated conditions.
They used the area under the receptor-operated curve (ROC) for statistical analyses on accuracy.
For patients with and without celiac disease (not including those on a gluten-free diet) HLA-DR offered the best accuracy for diagnosing celiac disease (area under ROC = 0.99).
Combining the data from the HLA-DR with data of other markers did not increase test accuracy.
The team found similar results in the 39 patients of the difficult diagnosis group undergoing the search celiac disease-speciï¬c antibodies under untreated conditions.
In vitro testing of mucosal HLA-DR to gliadin is an accurate tool for the diagnosing celiac disease, and also works in patients who are hard to diagnose.
Source: