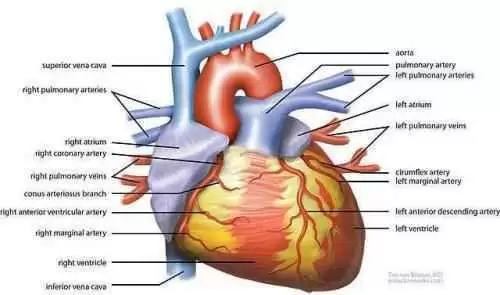 Caption: Image: Wikimedia Commons--Van Brussel
Celiac.com 05/05/2014 - People with celiac disease face double the risk of coronary artery disease compared with the general population, according to research to be presented at the American College of Cardiology's 63rd Annual Scientific Session.

The data for the study were gathered by researchers using electronic health records of patients from 13 participating health care systems between January 1999 and September 2013. Out of a total of nearly 22.4 million patients, they found 24,530 with celiac disease. Patients without celiac disease served as controls.
---
Celiac.com Sponsor (A12):


---
---
Celiac.com Sponsor (A12-m):


---
The researchers found was no difference in smoking status or diabetes rates between the two groups. Those with celiac disease had slightly higher cholesterol levels, but lower rates of high blood pressure.

All patients were adults. For both groups, the team found comparable rates of traditional risk factors for coronary artery disease including sex, race, diabetes, high cholesterol, high blood pressure and smoking.

Overall, the researchers found a significantly higher rates of coronary artery disease among patients with celiac disease compared to the control population. The rates were 9.5 percent for patients with celiac disease, compared to 5.6 percent, of the general population.

Data showed a similar trend among younger patients, those under age 65, with with 4.5 percent of patients with celiac disease compared to 2.4 percent for those without celiac disease.

People with celiac disease have some persistent low-grade inflammation in the gut that can spill immune mediators into the bloodstream, which can then accelerate the process of atherosclerosis and, in turn, coronary artery disease," said R.D. Gajulapalli, M.D., clinical associate at the Cleveland Clinic and co-investigator of the study.

These findings "reinforce the idea that chronic inflammation, whether it's from an infection or a disease, can have an adverse role in coronary artery disease and general heart health, even in the absence of traditional cardiovascular risk factors," Gajulapalli said.

The team was surprised by the "strength of the association, especially in younger people," and, in addition to further study, they are calling for patients and doctors to be aware of this association.

Source: