Celiac.com 03/26/2012 - People with thyroiditis and untreated celiac disease may suffer from reduced thyroid-stimulating hormone levels, a new study has found. Those people may require supplemental doses of thyroxine to normalize their thyroid-stimulating hormone levels.

That study, which appears in the Journal of Clinical Endocrinology and Metabolism, also indicates that following a gluten-free diet seems to require less thyroxine to push thyroid hormone back toward normal levels.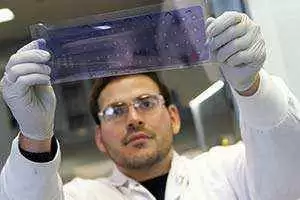 More and more, people diagnosed with celiac disease, show atypical symptoms, many without the classic gastrointestinal complaints that traditionally characterized celiac disease.
The study team notes that the need for higher thyroxine doses may offer a clue to such atypical celiac disease.
Leader of the study, endocrinologist Dr. Marco Centanni, of Sapienza University of Rome, in Italy, encourages doctors to consider the "possibility of the presence of other occult autoimmune disorders…every time they see a patient with autoimmune thyroiditis."
Dr. Centanni adds that doctors should consider malabsorption, and possible celiac disease, whenever standard thyroxine doses fail to reduce thyroid-stimulating hormone levels to under 2.5mU/L. For Dr. Centanni, an individually-tailored dose of thyroxine that fails to hit the therapeutic target is a powerful "tool to unveil occult gastrointestinal disorders."
Dr. Centanni and his team analyzed replacement T4 doses in 35 hypothyroid patients with Hashimoto's thyroiditis (HT) and atypical celiac disease. They also looked at 68 patients with Hashimoto's alone.
After an about five months of thyroxine doses averaging 1.31 mcg/kg/day, the 68 patients without celiac disease reached target serum thyroid-stimulating hormone levels of a median of 1.02 mU/L.
After receiving similar thyroxine doses over a similar span of time, the 35 patients with celiac disease showed much higher hormone levels, averaging 4.20 mU/l, and just a single patient had reached the target level.
The team then encouraged patients with celiac disease to adopt a gluten-free diet, and found 21 willing patients.
When they measured those 21 patients again after an average of 11 months, they found that the patients had returned to target serum hormone levels on a average thyroxine dose of 1.32 mcg/kg/day, which is similar to the dose originally used in the non-celiacs.
To get normal target serum hormone levels in the 14 celiac patients who did not comply with the gluten-free diet, the team had to increase the dosage substantially.
From these results, the researchers conclude that malabsorption of thyroxine may offer an as yet undiscovered way detect celiac disease in certain cases.
Source:

---
Image Caption: Photo: CC - sanofi pasteur