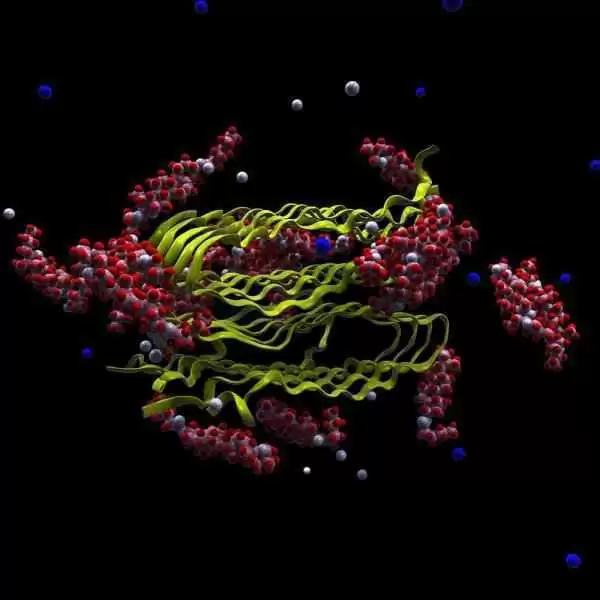 Caption: Image: CC--Oak Ridge National Laboratory
Celiac.com 05/22/2018 - Proteins are the building blocks of life. If scientists can figure out how to create and grow new proteins, they can create new treatments and cures to a multitude of medical, biological and even environmental conditions.
But, one of the main problems in protein engineering has to do with the way proteins fold into their various three-dimensional structures. Until recently, no one has been able to decipher the rules that will predict how proteins fold into those three-dimensional structures.  So even if researchers were somehow able to design a protein with the right shape for a given job, they wouldn't know how to go about making it from protein's building blocks, the amino acids.
But now, scientists like William DeGrado, a chemist at the University of California, San Francisco, and David Baker, director for the Institute for Protein Design at the University of Washington, say that designing proteins will become at least as important as manipulating DNA has been in the past couple of decades.
After making slow, but incremental progress over the years, scientists have improved their ability to decipher the complex language of protein shapes. Among other things, they've gained a better understanding of how then the laws of physics cause the proteins to snap into folded origami-like structures based on the ways amino acids are attracted or repelled by others many places down the chain.
It is this new ability to decipher the complex language of protein shapes that has fueled their progress. UCSF's DeGrado is using these new breakthroughs to search for new medicines that will be more stable, both on the shelf and in the body. He is also looking for new ways to treat Alzheimer's disease and similar neurological conditions, which result when brain proteins fold incorrectly and create toxic deposits.
Meanwhile, Baker's is working on a single vaccine that would protect against all strains of the influenza virus, along with a method for breaking down the gluten proteins in wheat, which could help to generate new treatments for people with celiac disease. 
With new computing power, look for progress on the understanding, design, and construction of brain proteins. As understanding, design and construction improve, look for brain proteins to play a major role in disease research and treatment. This is all great news for people looking to improve our understanding and treatment of celiac disease.
Source: