Celiac.com 12/05/2011 - Class II major histocompatibility molecules are one of the main points of susceptibility for a number of autoimmune disorders, including type 1 diabetes.

A team of researchers recently set out to investigate structure-based selection of small molecules to alter allele-specific MHC Class II antigen presentation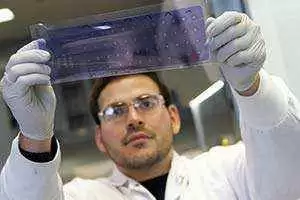 The research team included Aaron W. Michels, David A. Ostrov, Li Zhang, Maki Nakayama, Masanori Fuse, Kristen McDaniel, Bart O. Roep, Peter A. Gottlieb, Mark A. Atkinson, and George S. Eisenbarth.
They are variously affiliated with the Barbara Davis Center for Childhood Diabetes at the University of Colorado Denver, the Department of Pathology, Immunology and Laboratory Medicine, University of Florida College of Medicine, in Gainesville, FL, and with the Department of Immunohaematology and Blood Transfusion at Leiden University Medical Center in Leiden, The Netherlands.
In the NOD mouse model of spontaneous autoimmune diabetes, Human DQ8 and I-Ag7 imparts diabetes risk by modulating presentation of specific islet peptides in the thymus and surrounding area.
To define small molecules that could live in specific structural pockets along the I-Ag7 binding groove, the research team made use of an in-silico molecular docking program to review a vast "drug-like" chemical library.
They were hoping to either promote or inhibit presentation to T cells of the autoantigen insulin B chain peptide, which consists of amino acids 9–23.
By making use of both murine and human cells, the team's results show that small molecules can in fact influence specific TCR signals in the presence of cognate target peptides, based upon the targeted structural pocket.
The effect of a compound on TCR response varied among targeted pockets, with pocket 1 and 6 compounds inhibiting TCR response, and molecules targeted at pocket 9 promoting peptide responses.
It takes just nanomolar levels of the inhibitory molecules to block the insulin B chain peptide, which consists of amino acids 9–23, endogenous insulin, and islet-stimulated T cell responses.
At concentrations as low as 10 nM, Glyphosine, a pocket 9 compound, enhances insulin peptide presentation to T cells, upregulates IL-10 secretion, and prevents diabetes in NOD mice.
These studies offer a new way to identify small molecules that can both stimulate and inhibit T cell responses, thus offering a potential for future therapeutic treatment options.
Source: