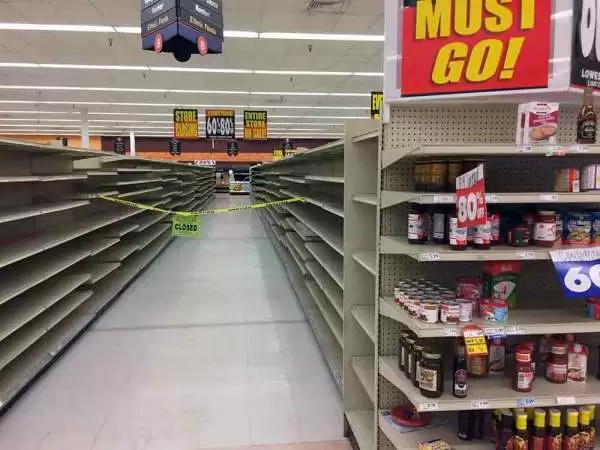 Caption: Empty store shelves. Image: CC BY-SA 2.0--tvanhoosear
Celiac.com 03/20/2020 - Food hardly ever entered my mind. In the past, I practiced intuitive eating. If I was hungry for a burger, I had a burger. Pasta, then I had pasta. I felt what I wanted and I got it. Simple as that, without stress or worry. Most people are accustom to eating this way, but things changed dramatically this past week, with rapid rise of COVID-19 cases. Intense emotions are swirling around buying food. Shelves are empty and people fear they won't be able to buy the essentials, let alone their favorites. Please stop worrying, I have you covered. You see, I am a celiac. 
Life changes with the onset of disease. Celiac disease was my game changer because it thrust me into a life of food preoccupation. Celiac disease is an autoimmune disease triggered when people eat gluten (a protein found in wheat, rye and barley). Ingestion of gluten causes an immune response. In essence, the body begins an attack on its small intestine and prevents nutrients from being absorbed. If left untreated, the symptoms are terrible, but if a gluten-free diet is strictly followed, those same awful symptoms go away. Notice the word strictly. Without strict adherence, the symptoms come right back. 
---
Celiac.com Sponsor (A12):


---
It is the strictness of the gluten-free diet in the life of a celiac that makes food so central in our lives. Running errands and grabbing quick fast food is out of the question. Grocery shopping requires an hour reading every label because gluten hides in everything. With celiac disease, food goes from a thoughtless pleasure to a chronic worry. When you leave your home, there might not be food available that you can eat.  

Herein lies the overlap with COVID-19. You have to think strategically about food rather than relying on it being available. People with celiac cannot assume restaurants or dinner parties will have food free of gluten, nor should we. It is our responsibility to feed ourselves in a way that does not harm our bodies. I regularly bring my own food to the mall or to a potluck. Popping my own popcorn and smuggling it into the movie theater is my move. All of this gluten-free preparation takes time and necessitates the sacrifice of other activities. Sundays involve hours of food prep for the week. I think about my upcoming plans and I strategize. On the go means tuna pouches, dried fruit and protein bars. Time at home allows for fresh fruit and vegetables. I think about where I am, what I have, and how to eat in the healthiest way given the combination of the two. The point is, I think about it. 

What I have learned as a celiac is that food is not easy and it certainly is not automatic. There are even times when it is unavailable. To cope, I am flexible and make adjustments within the confines of my dietary requirements. It seems hard at first. It is normal to be angry or despairing when what you want to eat is no longer an option. But the mind's greatest achievement is to accept what cannot be changed. It seems we are destined to live under these strange circumstances for the foreseeable future. In this new world, restaurants might close and the grocery store might not be stocked. It's okay. Embrace the world of canned and frozen goods, experiment with sauces and spices, and spend time thinking about how your food can be different and healthy. It's a challenge flung your way. Treat it as such and you will learn to be grateful for what you have rather than sad about what you have lost. I coped with the loss of gluten in my delicious Chicago-style pizzas but discovered the joy of avocado on just about anything. You too will cope with what you are losing now, but maybe you will remember the deliciousness of canned peaches.