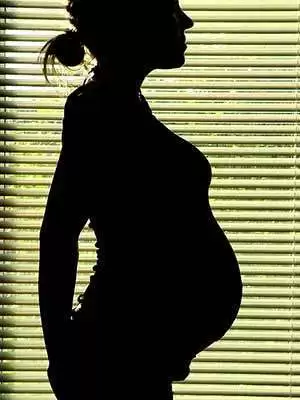 Caption: Photo: CC--Mahaile
Celiac.com 11/05/2012 - Over the last 40 years, studies have shown higher rates of menstrual abnormalities and pregnancy complications among women with celiac disease.
However, the data from these studies have been inconsistent, and inconclusive regarding the actual effects of celiac disease on female fertility. To get a better picture of the relationship between celiac disease and female fertility and pregnancy, researchers recently conducted a more comprehensive study.
---
Celiac.com Sponsor (A12):


---
---
Celiac.com Sponsor (A12-m):


---
The research team was led by Stephanie M. Moleski, MD, of Thomas Jefferson University Hospitals in Philadelphia. Dr. Moleski presented an abstract of the study data at the American College of Gastroenterology Annual Meeting 2012.

In the abstract, she points out that women with biopsy-proven celiac disease had significantly higher rates of fertility and pregnancy complications and gave birth to less children than those without the disease.

Because it is an abstract, the study data and conclusions should be regarded as preliminary until they appear in a peer-reviewed journal, where they can be given a fuller context and be more widely scrutinized.

For their study, Dr. Moleski and her colleagues recruited patients treated for celiac disease at Thomas Jefferson University Hospitals, as well as members of the National Foundation for Celiac Awareness and the Gluten Intolerance Group, to respond in an anonymous Internet-based survey about fertility and pregnancy. Women without celiac disease also completed the survey and served as a control group.

The survey included questions about celiac diagnosis and history, menstrual history, fertility, spontaneous abortions, and pregnancy outcomes.

Approximately 1,000 women who completed the survey. Of those, 473 had physician-diagnosed celiac disease, while 298 women had the been confirmed for celiac via small-bowel biopsy. The researchers used the group with biopsy-proven disease to compare against 560 women without celiac disease.

The data showed that 41.2% of women with celiac disease had increased difficulty conceiving compared with 36.5% of control subjects (P=0.03). Women with celiac disease also had more consultations with fertility specialists and higher rates of spontaneous abortion, preterm delivery, and cesarean section, compared with control subjects.

Additionally, women with celiac disease were shown to have a shorter duration of fertility, to have a later onset of menarche and be younger when they experienced menopause, said Dr. Moleski.

The data also revealed important differences between women with and without celiac disease. In all, 22.4% of women with celiac disease had consulted with fertility specialists, compared with 19% of those without (P=0.04). Also, 43.3% of celiacs had a history of spontaneous abortion, compared with 36.6% of non-celiacs (P=0.02).

Compared with the control group of non-celiacs, women with celiac disease also had higher rates of cesarean delivery, 26.4% versus 23.8% of non-celiac women.

Lastly, rates of preterm delivery were 23.2% for celiac women, and 14% for those without celiac disease (P=0.007), while the group with celiac disease was was also slightly older at the onset of their first period (12.7 versus 12.4 years, P=0.01).

Among women reporting a history of spontaneous abortion, more than 80% of miscarriages occurred prior to diagnosis of celiac disease, said Dr. Moleski.

She concluded that the retrospective analysis done by her team shows a clear relationship between celiac disease, fertility, and pregnancy outcomes, and suggests that the results demonstrate "a need for increased awareness of this association among patients and physicians."

Sources:
American College of Gastroenterology, 2012; Moleski SM, et al "Infertility and pregnancy outcomes in celiac disease" ACG 2012; Abstract 15.