Ceviche is one of my very favorite summertime dishes. It's one of those magical dishes where simple ingredients, simple preparation, and a bit of time combine to form a delicious, refreshing and memorable dish.
Not only do I consider ceviche to be delicious and refreshing, I consider it to be lucky. That's because, back when I was single, I took the woman who would later become my wife out to a local Peruvian restaurant for ceviche on our first date. The place specializes in ceviche, and we ordered several kinds. And while I'd like to think that the charm that eventually won her over was mine alone, I still give some credit to the ceviche she found so delicious.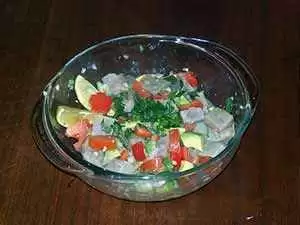 I can't guarantee that this ceviche will help you land the partner of your dreams, but it certainly can't hurt your efforts. This recipe is easy to make, and delivers a delicious, mouth-watering ceviche that will make the people you share it with feel very special. And, who knows, maybe it will be the start of something big!

Ingredients:
½ pound raw halibut, sea bass, or red snapper fillets
½ pound raw large shrimp or prawns
½ pound asparagus, fresh
Juice of 3 lemons and 3-5 limes (enough to cover fish and shrimp)
3 limes (cut into wedges for serving)
2 small avocados (or 1 large), cubed
1 red bell pepper, julienned
1 medium red onion, finely chopped
1 jalapeño, seeded and finely chopped
4 tablespoons cilantro, chopped
½ teaspoon salt
½ teaspoon pepper
Directions:
In a large glass bowl or baking dish, dice the fish into ½-inch chunks.
Clean, shell and dice shrimp into similar-sized chunks, and add to fish.
Add lemon and lime juice. Mix well.
Marinate fish and shrimp in the lemon and lime juice in the fridge overnight (this will cook the fish). Stir often.
Pour off most of the lime juice, until the fish and shrimp are barely moist.
Steam, blanche or lightly grill asparagus until it is cooked, but still crunchy. Cut into ½-inch pieces.
Add asparagus and remaining ingredients, except avocado, to fish and shrimp. Mix well.
For best results, mix a few hours before serving & chill in a refrigerator.
Add avocado before serving, and mix well.
Garnish with lime wedges and serve in chilled glass bowls or glasses.