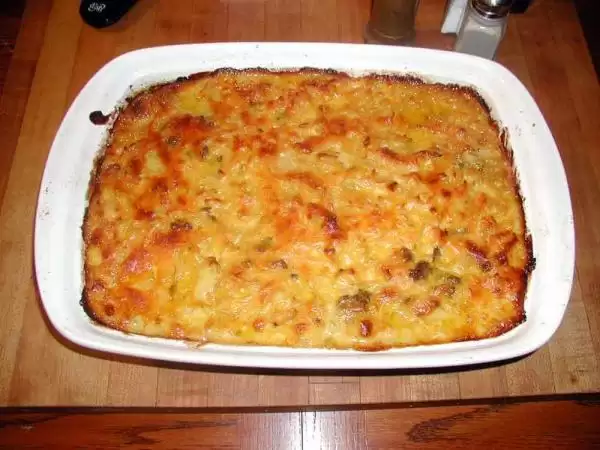 Caption: Image: CC--jeffreyw
Celiac.com 02/09/2019 - Grits are a time-honored southern favorite. Of the many ways to prepare grits, adding cheese, butter, eggs and milk is one of the easiest and common methods. In many regions, good cheese grits are as beloved as good macaroni and cheese.  Here's a simple. Tasty recipe that will deliver smooth, creamy, cheesy grits that are sure to please your hungriest eaters. It keeps well, and makes a great potluck dish.
Ingredients:
4 cups whole milk 
2 cups (8 oz.) shredded sharp Cheddar cheese
1 cup uncooked quick-cooking grits 
4 tablespoons salted butter 
1 large egg, lightly beaten 
1 teaspoon salt 
½ teaspoon pepper 
¼ cup grated Parmesan cheese
Instructions:
Heat oven to 350°F. 

Bring milk just to a boil in a large saucepan over medium-high heat; gradually whisk in butter and grits. 

Reduce heat, and simmer, whisking constantly, 5 to 7 minutes or until grits are cooked through. 

Remove from heat.

Stir in egg, salt and pepper. 

Pour into a lightly greased 11- x 7-inch baking dish. Sprinkle with grated Parmesan cheese.

Bake, covered, at 350° for 35 to 40 minutes or until mixture is firm. 

Serve hot.