Celiac.com 10/16/2013 - A crust of almonds and almond meal highlight this delicious, gluten-free version of a traditional cheesecake.
Ingredients:
---
Celiac.com Sponsor (A12):


---
---
Celiac.com Sponsor (A12-m):


---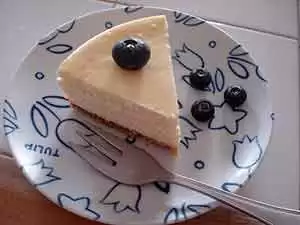 Filling:
1 pound cream cheese, 2 (8-ounce) blocks, softened
3 whole eggs
1 cup sugar
½ teaspoon vanilla extract
2 teaspoons grated lemon peel
Nut Crust:
¾ cup finely crushed almonds
¾ cup almond meal
2 tablespoons granulated sugar
2-3 tablespoons butter, room temperature
Directions:
Heat oven to 300F. Place all nut crust ingredients in a mixing bowl and mix well.
Lightly coat the bottom and sides of an 8-inch springform pan with oil. Pour the nut crust mixture into the pan.
Use the bottom of a measuring cup or glass to press the crumbs down into the bottom and 1-inch up the sides of the pan.
Place crust in oven and bake about 5 minutes, or until the crust is slightly browned. Remove and cool.
Cheesecake Directions:
Heat oven to 300 degrees F.
For the Filling:
In the bowl of an electric mixer, beat the cream cheese on low speed for 1 minute until smooth and free of any lumps.
Gradually add sugar, lemon zest, and vanilla.
Add the eggs, 1 at a time, and continue to beat slowly until combined. Beat 1-2 minutes until creamy, but not over-mixed.
Pour the filling into the crust-lined pan and smooth the top with a spatula.
Bake at 300 degrees F for 1 hour. The cheesecake should still jiggle, so be careful not to overcook.
Remove and allow to cool in pan for 30 minutes, then place in the refrigerator, loosely covered, for at least 4 hours.
Loosen the cheesecake from the sides of the pan by running a thin metal spatula around the inside rim. Release the side of the pan and set aside.
To slice the cheesecake, dip a thin, non-serrated knife in hot water, make a cut, then wipe blade dry after each cut. Garnish slices with berries or a dallop of lemon curd.