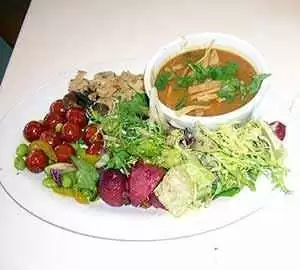 Caption: The finished chicken enchilada soup. Photo:CC--Brett L.
Celiac.com 05/08/2014 - I love enchiladas, and I love soup, so this recipe was a natural.
This soup is best done in a CrockPot or other type of slow cooker. Just toss the ingredients into the pot in the morning, turn it on, and come back around dinner time for rich, delicious chicken enchilada soup.
---
Celiac.com Sponsor (A12):


---
---
Celiac.com Sponsor (A12-m):


---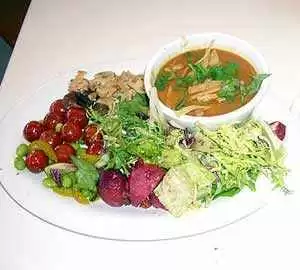 Ingredients:
2 pounds chicken thighs and legs
1 can whole kernel corn, drained (15 ounces)
1 can diced tomatoes including juice (14.5 ounces)
1 can pinto beans (15 ounces)
1 quart chicken broth
1 can gluten-free enchilada sauce (10 ounces)
1 can diced green chiles (4 ounces)
1 yellow onion, chopped
¼ cup chopped fresh cilantro, as desired
1 bay leaf
1 cup sliced fresh cabbage
⅓ cup sliced radishes
1 whole avocado, peeled, seeded and cubed
4 ounces crumbled Cotija cheese
3 cloves garlic, minced
1½ teaspoons ground cumin
1 teaspoon chili powder
1 teaspoon salt
½ teaspoon coriander
¼ teaspoon ground black pepper
Lime wedges
Directions:
Sliced and soak radishes to mellow them a bit.
Rinse and pat dry the chicken thighs and legs, then place into the bottom of a slow cooker.
Add the corn, tomatoes, chicken broth, enchilada sauce, green chiles, onion, cumin, cilantro, bay leaf, garlic, cumin, chili powder, salt, and black pepper.
Cook on Low for 6 hours.
Remove meat from chicken from the pot and remove bones from chicken.
Transfer the chicken meat to a large plate, then shred the it with two forks.
Return the chicken to the slow cooker and continue cooking for 30 minutes to 1 hour.
Top with crunched tortilla chips, crumble Cotija cheese, avocado, sliced cabbage, lime wedges and radishes.