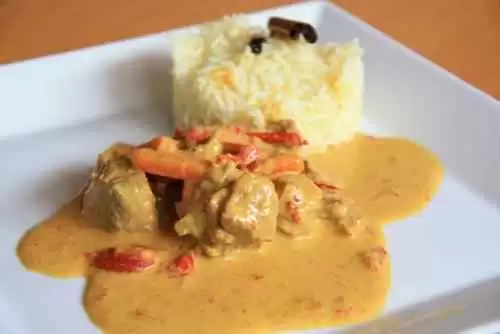 Caption: Gluten-Free Chicken Korma (photo courtesy of Jlastras)
Indian food is one of my all time favorite foods. The food is warming and always gives me happy tummy. Chicken Korma is a wonderful authentic Indian dish; add  basmati rice and you have a complete Indian meal. This meal is very easy and can be prepared ahead of time for a quick meal during the week. The sauce can be as spicy as you like, start with a little curry and masala spices and add to taste.

Chicken Korma with Saffron
Preparation Time: 50 minutes
Cooking Time: 15 minutes
Ingredients (serves 6)
1/3 cup Greek-style gluten-free yogurt
1/4 cup gluten-free curry paste
1 tsp. gluten-free garam masala
Pinch of gluten-free saffron threads
2 pounds gluten-free chicken thigh fillets, cut into 2 inch chunks
1/4 cup vegetable oil
2 brown onions, finely chopped
1/2 cup light cream
1 tbs. cooking oil
1/3 cup raw cashews
1/4 cup raisins
1 or 2 sliced carrots
12 fresh curry leaves
Method
Combine the yogurt, curry paste, garam masala and saffron in a large glass or ceramic bowl. Add the chicken and turn to coat. Cover with plastic wrap. Place in the fridge for 30 minutes to marinate.
Heat the oil in a large saucepan over medium-high heat. Add the onion. Cook, stirring, for 5 minutes or until golden.
Stir in the chicken. Reduce heat to low. Simmer for 5 minutes. Add the cream and simmer for 5 minutes or until the chicken is cooked through and the sauce thickens. Avoid curdling-don't boil the curry. Season with salt to taste.
Meanwhile, heat the extra oil in a large frying pan over medium-low heat. Add cashews, raisins and curry leaves. Cook for 1-2 minutes or until the cashews are golden and the raisins are plump.
Transfer the curry to a serving dish. Top with cashew mixture to serve.
Notes


Make it ahead: Prepare this recipe to end of step 3 up to 2 days ahead. Cover and store in fridge. Continue to end of step 4 up to 2 hours before serving. Store in an airtight container. Reheat the curry in a saucepan over medium heat for 10-15 minutes. Continue from step 5.