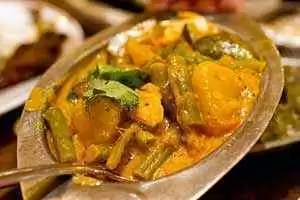 Caption: Photo: CC--Jessica and Lon Binder
Celiac.com 05/06/2014 - I love Indian food, but it's one of those things I almost never make at home, partly due to lack of confidence. Still good Indian food can be expensive, so when I found this recipe for chicken korma with vegetables, I was eager to give it a try.
This recipe for cicken vegetable korma came together fairly quickly and produced a tasty meal that went well with aromatic rice.
---
Celiac.com Sponsor (A12):


---
---
Celiac.com Sponsor (A12-m):


---
Ingredients:
1½ tablespoons vegetable oil
1 medium onion, sliced and loosely chopped
1 teaspoon minced fresh ginger
4 cloves garlic, minced
2 potatoes, ½-inch sticks
4 carrots, ½-inch sticks
1 fresh jalapeño pepper, seeded and sliced
3 tablespoons halved unsalted cashews
1 can tomato sauce (4 ounces)
2 teaspoons salt
1½ tablespoons curry powder
1 cup frozen green peas
½ green bell pepper, seeded, chopped
½ red bell pepper, seeded, chopped
1 cup heavy cream
1 bunch fresh cilantro for garnish

Directions:
Heat the oil in a skillet over medium heat.
Stir in the onion, and cook until tender.
Mix in ginger and garlic, and continue cooking 1 minute.
Mix potatoes, carrots, jalapeño, cashews, and tomato sauce.
Season with salt and curry powder.
Cook and stir 10 minutes, or until potatoes are tender.
Stir peas, green bell pepper, red bell pepper, and cream into the skillet.
Reduce heat to low, cover, and simmer 10 minutes.
Garnish with cilantro to serve with aromatic Indian style rice (see below).
Aromatic Indian-style Rice
Ingredients:
2 tablespoons butter
1 medium onion, halved, thinly sliced
4 each whole cloves, whole peppercorns, whole cardamom pods
1 cinnamon stick
2 bay leaves
2 cups long grain white rice (NOT the instant variety)
2 cups chicken broth
1½ cups water
½ teaspoon salt
Directions:
Sauté onion in butter until golden brown.
Stir in spices, cook and stir 2 minutes.
Stir in rice, cook and stir 2 minutes.
Add broth and water, bring to a boil.
Reduce heat, cover and simmer over low heat 20 minutes.
Fluff with fork and serve hot. Serves 4 to 6.