I love just about every type of curry under the sun. Before I started eating gluten-free, one of my favorite curries to make was S&B's Golden Curry. It's an easy, cheap, delicious curry block that is available nearly everywhere I have ever traveled.
The S&B company makes a number of delicious curry blocks that I now cannot use because they all contain wheat flour. However, I was shopping at Nijiya market in San Francisco's Japantown recently, when I noticed a red S&B box with Japanese writing. It looked to be an import from Japan. Unlike the other S&B curries, which list wheat flour as an ingredient, this one contained sorghum. The product is called "Curry No Ohji-sama." It comes in a red box with a cartoon of a child with a band of yellow stars across his head.
---
Celiac.com Sponsor (A12):


---
---
Celiac.com Sponsor (A12-m):


---
Now, technically this product is not sold as gluten-free, so please evaluate it based on your own personal needs and judgement.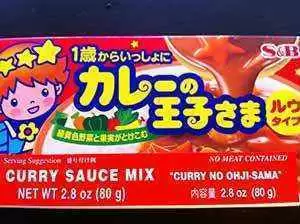 The English label listed the following ingredients: Palm Oil, Corn Starch, Dextrin, White Sorghum, Salt, Sugar Beet, Vegetable Paste (Palm oil, pumpkin, carrot, cabbage, sweet corn, spinach, tomato, bell pepper, molokhiya), Curry Powder, Chinese Cabbage Extract Powder, Caramel, Fruit paste (Canola oil, Mango, Pineapple, Passion fruit, Apple, Banana), Yeast extract powder, Sucrose fatty acid esters, Artificial flavor, Paprika color.

After my first try, I found that I needed to modify the curry with a bit of additional curry powder, and a dash of soy sauce. However, once I did, the result was a rich, delicious curry that goes great with rice or with your favorite gluten-free noodles.

Lastly, this recipe also works well with pork or beef in place of chicken. It is also delicious as a vegetarian dish.

Ingredients:
2 tablespoons olive oil
1 chicken breast about 6-8 ounces (substitute pork chop or beef)
1 small onion or ½ large onion, chopped
1 large potato or 2 small potatoes, chopped
1 large carrot, chopped
4-6 Crimini, brown, Shitake, or other button mushrooms
½ cup zucchini
1½ tablespoons of curry powder - I use Trader Joe's.
1 tablespoon gluten-free soy sauce or tamari
Directions:
Cut vegetables into bite-size pieces. Halve or quarter mushrooms, depending on size.
In a medium saucepan, sauté onion in oil over medium heat until soft. Add meat and cook until lightly brown.
Add remaining vegetables and sauté for a few more minutes, until vegetables are slightly cooked.
Add 2½ cups of water and bring to a boil. Reduce heat and simmer for 15 minutes, skimming off and discarding any foam. Remove from heat.
Add S&B curry cubes, curry powder and soy sauce. Cook according to package directions.
Serve over rice, or with your favorite gluten-free noodles. Also goes great over quinoa! Makes 4-6 servings.