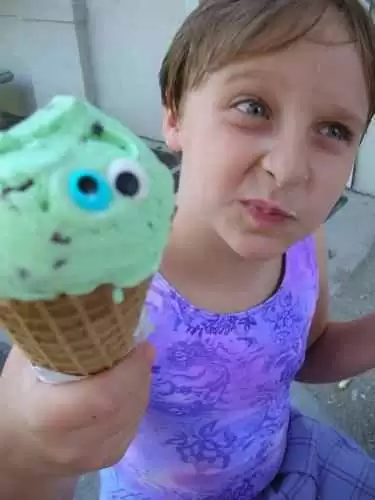 Caption: Photo: CC/Crystl
In honor of the July 1st  creative ice-cream flavors day, I decided to post a gluten-free, dairy-free ice-cream recipe. The following mint chocolate chip ice-cream  recipe calls for  soy, but the soy milk can be substituted for  rice, almond, hazelnut, coconut, or any dairy substitute.  As usual, make sure all ingredients are gluten-free.This  recipe requires an ice-cream maker.
Chocolate Chip Soy Milk Ice-Cream (Gluten-Free)

2 cup soy creamer
1 ¼ cup soy milk
¾ cup sugar
2 Tablespoon arrowroot
1 ½ teaspoon peppermint extract
½ teaspoon vanilla extract
¾ cups gluten-free chocolate chips
gluten-free green coloring (optional)
Mix ¼ cup of the soy milk with the 2 tablespoons of the arrowroot and set aside.
Mix the soy creamer, remaining soy milk, and sugar in a saucepan. Bring to a boil. When the mixture has just started to boil, take off the heat and immediately stir in the arrowroot slurry. This should immediately cause the liquid to thicken (not a lot, but a noticeable amount; it will be thicker when it cools).
Stir in the peppermint extract, vanilla extract, and food coloring (if desired).
Set the ice cream mixture aside to cool. Freeze according to your ice cream maker's instructions.
Add chocolate chips during the last 5 minutes of freezing.