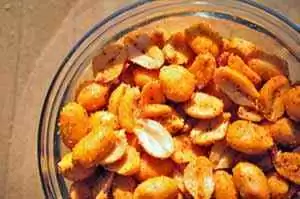 Caption: Cinnamon and Rosemary Roasted Peanuts (Gluten-Free)
This recipe makes a great snack that is perfect when you have a few guests over.

Gluten-Free and Vegan

Ingredients
2 cups peanuts
1 tsp. fresh lime zest
1 tsp. fresh lime juice
1 Tbsp. ground cinnamon

1/4 cup fresh rosemary, very finely chopped
2 Tbsp. extra virgin olive oil

Directions
Preheat oven to 350 degrees F.
In a large bowl, combine all ingredients.

Spread peanut mixture on a baking sheet with parchment paper.
Bake for 20 minutes.
Remove from oven; set aside to cool.