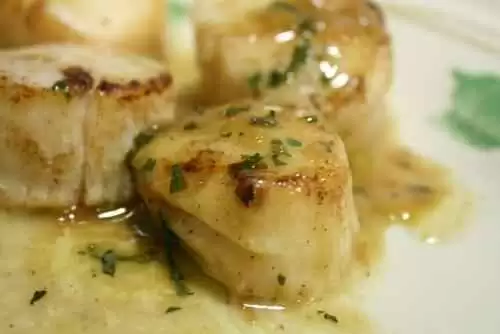 Caption: The finished citrus scallops over quinoa. Photo: CC-jordanmit09
This is a wonderfully sweet way to prepare scallops. The integrity of the scallops is well-maintained by giving them a light sear on each side, allowing them to hold their own against the tangy citrus sauce. This is a dish that utilizes both the juice and the zest of the fruit along with the savory aroma of the cider and coriander which work synchronously to create powerful dimension in the mouth. Because the quinoa cooks on its own, this recipe does not take long and makes for a beautiful presentation.

Ingredients:
1 ½ pounds sea scallops
4 tangerines
2 oranges
1 small lemon
1 cup quinoa, rinsed
2 ¼ cups water
2 tablespoons apple cider vinegar
1 ½ teaspoons toasted coriander seeds, crushed
3 tablespoons melted butter
2 tablespoons sugar
1 tablespoon olive oil
1 tablespoon fresh chives, chopped
1 ½ teaspoon salt
1 teaspoon pepper

Preparation:


Season water with ½ teaspoon salt in a medium saucepan and add quinoa. Bring to a rapid boil and then reduce heat to low and simmer, uncovered until the water is fully absorbed, up to 15 minutes. Fluff with a fork.

While quinoa is cooking, grate 1 teaspoon of orange and lemon zest. Juice all the fruits into a bowl. Heat sugar in a skillet over medium heat until it turns a tawny-amber color. Remove from heat and whisk in vinegar, juices, zest and coriander. Return to heat and bring to a boil. Cook until sauce thickens and becomes syrupy, 8-10 minutes. Remove from heat and whisk in butter. Keep warm.

Heat olive oil in a large skillet. Sprinkle scallops with remaining salt and pepper. Add scallops to skillet and sear first side until golden in color, about 4 minutes. Flip once and cook the other side for 2-3 more minutes.

Serve scallops over a bed of quinoa and finish with a drizzle of the warm citrus sauce.