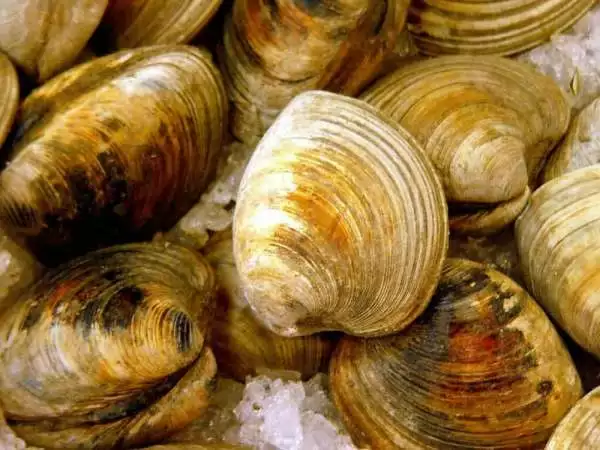 Caption: Image: CC BY 2.0--Kathleen Tyler Conklin
Celiac.com 10/10/2020 - If you're looking for a dish that's light, easy to make, but still satisfying, these clams with spicy tomato and garlic broth are perfect for the beginning of fall. They offer the lightness and freshness of summer, and the savory satisfaction of fall.
Ingredients:
3 dozen littleneck clams, scrubbed
5 garlic cloves, 1 whole, 4 thinly sliced
½ lemon
½ cup mayonnaise
¼ cup plus 3 tablespoon extra-virgin olive oil
2 large shallots, thinly sliced
Kosher salt
½ tsp. crushed red pepper flakes
2 tablespoon tomato paste
2 cups cherry tomatoes
1 cup dry white wine
6 tablespoon unsalted butter, cut into pieces
3 tablespoon finely chopped chives
4 thick slices gluten-free sourdough bread
---
Celiac.com Sponsor (A12):


---
---
Celiac.com Sponsor (A12-m):


---
Directions:
Finely grate zest from lemon half into a small bowl, then squeeze in juice. 

Finely grate whole garlic clove into bowl and mix in mayonnaise. Season garlic mayo with salt and set aside.

Heat ¼ cup oil in a large cast-iron skillet on the stove top. 

Add sliced garlic, shallots, and chili pepper and cook, stirring often, until just softened, about 2 minutes. 

Add tomato paste and cook, stirring often, until paste darkens slightly, about 1 minute. 

Add tomatoes and a pinch of salt and cook, stirring occasionally, until tomatoes soften and release their juices, about 4 minutes. 

Add wine and cook until it is almost reduced by half and no longer smells boozy, about 3 minutes.

Add clams and butter to skillet and cover (if you don't have a lid, use foil). 

Cook about 6–10 minutes, until clams open.

Remove cooked clams skillet from grill; discard any unopened clams. Sprinkle with chives.  

Toast bread and drizzle with remaining 3 tablespoons of oil and season lightly with salt.

Serve clams with toasted bread and reserved garlic mayo.