This recipe is perfect for those who like trying new types of pastas. It has a Thai-style flair that you just can't find in your average Italian recipes.
Gluten-Free and Vegan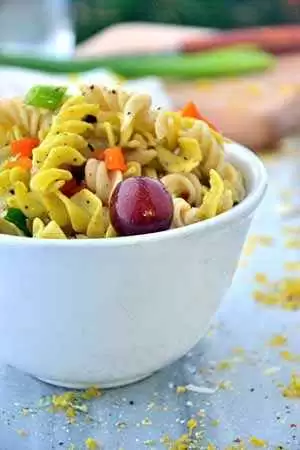 Ingredients:
1 lb. gluten-free pasta
1 tsp. extra-virgin olive oil
1 can Thai Kitchen Coconut Milk
1 tsp. curry powder
1 large orange bell pepper, diced
1 lb. red grapes
2 scallions, thinly slice
1 Tbsp. unsweetened coconut flakes
1 tsp. crushed red pepper flakes
1/4 tsp. sea salt
1/4 tsp. freshly ground pepper
1 tsp. fresh lemon zest, plus more for garnish
Instructions:
Cook pasta according to package directions. Drain; set aside.
Meanwhile, combine olive oil, coconut milk and curry powder in a large pan over medium-low heat; cook for 10 minutes, stirring often. Add cooked pasta and cook for another 2 minutes.
Remove from heat; transfer to a large serving bowl. Add remaining ingredients; gently toss to combine.
Serve warm. Garnish with additional lemon zest.