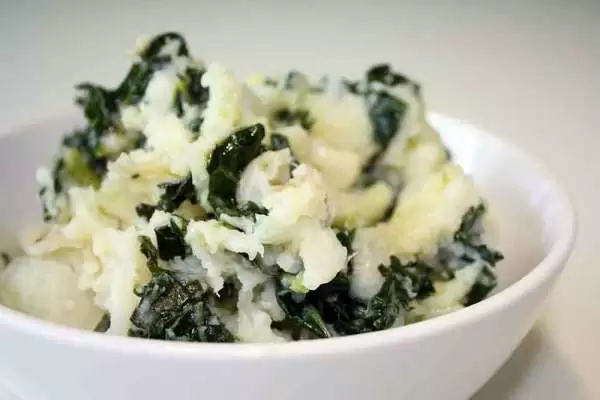 Caption: Colcannon is an Irish favorite. Image: CC BY 2.0--VegaTeam
Celiac.com 04/16/2020 - Colcannon is a common dish in Ireland, where is said to have fortune-telling properties. According to Wikipedia, "Colcannon is most commonly made with only four ingredients: potatoes, butter, milk and kale. Irish historian Patrick Weston Joyce defined it as "potatoes mashed with butter and milk, with chopped up cabbage and pot herbs". It can contain other ingredients such as scallions (spring onions), leeks, Laverbread, onions and chives. Some recipes substitute cabbage for kale."
This recipe comes to us via Food Wishes, one of our favorite sources for good food. Chef John's colcannon is a delightful marriage of kale and leeks with rich, buttery mashed potatoes. And it's also gluten-free. Enjoy!
---
Celiac.com Sponsor (A12):


---
Video of Colcannon Preparation:

Ingredients:
3 large russet potatoes, peeled and quartered
2 tablespoons butter at room temperature
4 ounces kale, trimmed and chopped
1 leek, light parts only, rinsed and chopped
1 bunch green onions, chopped, white and green parts separated
2 tablespoons butter at room temperature
¼ cup heavy whipping cream
2 tablespoons butter, for serving
¼ cup green onions to garnish
salt and ground black pepper to taste

Directions:
Boil potatoes in a large pot of salted water until tender, about 10 minutes. 
Drain and transfer potatoes to a large bowl. 
Add 2 tablespoons butter and lightly mash the potatoes.
Boil kale and leeks in a large pot of water until tender, 5 to 7 minutes. 
Drain and transfer kale and leeks to a blender. 
Add white parts of the green onions, along with 2 more tablespoons butter, and blend about 1 to 3 minutes, until smooth, scraping the sides of the bowl as needed.
Stir pureed kale mixture into the bowl of potatoes and continue to mash. 
Season with salt and black pepper to taste. 
Add cream and stir until desired texture. 
Top with 2 tablespoons butter and green parts of the green onions.