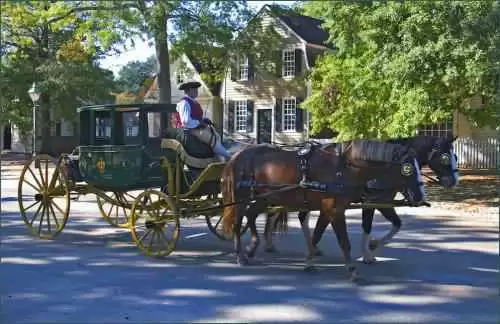 Caption: Colonial Williamsburg. Photo: CC--Ron Cogswell
Celiac.com 09/13/2017 - Facing charges that it forced a young boy with gluten-intolerance to eat outside in the rain, the Colonial Williamsburg Foundation has issued an official statement in which it denies violating any laws or mistreating an 11-year old Maryland boy with a food allergy, while he was eating in Shields Tavern with a school group in May, according to a filing Monday in U.S. District Court.
The lawsuit, filed by a Maryland family, alleges that Colonial Williamsburg violated federal and state law by discriminating against the boy, referred to as J.D. in court documents, by not allowing him to eat his food inside Shields Tavern May 11. The suit further contends that the boy was forced to eat alone in the rain.
---
Celiac.com Sponsor (A12):


---
---
Celiac.com Sponsor (A12-m):


---
Colonial Williamsburg Foundation claims that staff informed the boy's school no outside food is permitted in its taverns. They also claim that Shields Tavern offered to accommodate J.D. by preparing a gluten-free meal for him, and that the school had in fact ordered gluten-free meals ahead of J.D.'s visit to Colonial Williamsburg.

The foundation contends that the incident occurred only after J.D.'s father refused the tavern's gluten-free offering, and chose to eat his own food, in violation of Williamsburg's rules.

The foundation also stated that they never asked the family to leave the tavern, but that they chose to leave and eat outside.

The Foundation claims that the tavern's head chef is trained to prepare gluten-free meals, that Shields Tavern routinely prepares gluten-free meals for guests, and that they did so for the J.D.

In a statement, the family's attorney, Mary Vargas, said Colonial Williamsburg's response to the lawsuit falls short.

"Colonial Williamsburg's Answer does not accurately portray the facts or the manner in which this child and his family were treated before, during, or after his exclusion from Shields Tavern and is internally inconsistent in multiple respects," Vargas said in an emailed statement. "Ultimately, a jury will have to decide whether sending a child out in the rain because of his disability is what the Americans with Disabilities Act requires."

So, did Colonial Williamsburg wrongly force a gluten-free kid to eat outside in the rain? Or did they accommodate the child with gluten-free food only to be rebuffed by the boys father? Sounds like we'll need to wait for more news from the lawsuit before we have a good answer to that question. Stay tuned.

Read more at: vagazette.com