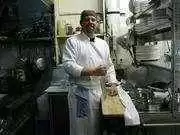 Caption: Chef Damian Cardone
Celiac.com 04/01/2011 - On March 10th, Chef Damian Cardone boasted on Facebook that he delights in feeding diners who specifically requested gluten-free meals a variety of gluten-filled dishes instead. He states on his Facebook page that he does not believe in gluten intolerance and that it's "all in their disturbed little heads." Clearly, chef Cardone did not attend a reputable institution of culinary arts, where classes in food allergies are now standard, and guest lecturers who are specialists in celiac disease and gluten intolerance are frequently invited to speak to students. Hopefully in the future, dining will be safer, gluten-free guests will be accommodated with creativity and courtesy, and uneducated, malicious food workers like Mr. Cardone will be unable to find employment in the food industry.
I am also very surprised by Mr. Cardone's naiveté, in assuming none of the diners who ate at his establishment would take legal action, and that there would be no repercussion. We are a litigious society, and I certainly hope that once word gets out in the gluten-free community, and make no mistake—it will—that legal action will be taken. I must also assume that Mr. Cardone is not aware of the current correctional institutional residence of a certain bread baker in North Carolina, who also knowingly sold gluten-containing items marketed as "gluten-free" to unsuspecting consumers. When these consumers became ill, they reported this to health authorities, who investigated. Their investigation quickly led to charges, and the conviction of the criminal involved. Most criminals are not very intelligent, and that's why they are eventually caught, so I hope that Mr. Cardone keeps this in mind. If for no other reason than to save his own skin, this Colorado "Chef" should immediately give up any participation in the food preparation industry. His behavior is not intelligent, and he is not worthy of diners' trust. This brings up another interesting line of thought regarding food service.
---
Celiac.com Sponsor (A12):


---
---
Celiac.com Sponsor (A12-m):


---
Does Mr. Cardone break any other rules? Does he wash his hands after using the bathroom, blowing his nose, or touching raw meat? Does he believe in food-borne illnesses such as Salmonella, E. coli outbreaks, or Clostridium? Does he feed soft cheeses to pregnant women, who may suffer miscarriage due to Listeriosis?

People can, and do, die from complications related to celiac disease, which now affects an estimated 1 in 100 people in the U.S. Non-celiac gluten intolerance may affect up to 12% of the population. That means that on a night when he plated 100 dinners, not uncommon for a mid-size restaurant, that 12 of those dinners had the potential to cause a negative reaction in the consumer. Mr. Cardone is apparently unaware that most reactions to gluten are not, in fact, gastrointestinal. Neurological reactions to gluten far outnumber gastrointestinal reactions. Neurological reactions can include: contributing to abnormal behaviors in children with Autism Spectrum Disorder, foggy or disturbed thinking, ataxia (disturbances in gait and coordination), tremors, exacerbating and triggering MS symptoms, muscle weakness, fatigue, depression, bipolar disorder, and even schizophrenia. I personally know and have helped to treat gluten-intolerant patients with all of these disorders. So, Mr. Cardone was partially right. For many patients, it is "all in their heads", but that doesn't mean that the symptoms aren't real, and that they are not caused by ingesting gluten. In fact, Mr. Cardone's disturbed behavior may be caused by consuming a diet filled with gluten. Perhaps he deserves our compassion, and he needs a medical checkup—Pronto!

I am a foodie—a former prep, pantry, line-cook, and pastry chef. I have spent years working at many of the finer dining establishments in Boulder and Steamboat Springs, Colorado. Does Mr. Cardone think that I would willingly have given up making and eating my own gluten-filled homemade croissants, danish, challah, bagels, black forest cake, salmon-en-croute, beef wellington, spanakopita, and baklava if I didn't have to? Celiac disease nearly killed me, and it caused me over a decade of severe pain, none of which was located in my gastro-intestinal tract. In my restaurant days, I had what I thought was "a cast-iron stomach", never once experiencing a bout of diarrhea, bloating, indigestion, heartburn, or gas related to my dietary intake. But, eventually my health deteriorated, and eventually I was diagnosed with celiac disease, and all of my extra-gastrointestinal symptoms have subsided on a 100% gluten-free diet. It scares me to think that anyone would deliberately sabotage my health by substituting foods containing gluten for my specially requested gluten-free meal. I certainly hope there aren't any copycats out there, who are stupid enough to engage in such risky and criminal behavior. Intentionally inflicting harm on anyone is a crime.

When dining out, I call ahead, I speak politely to my waitperson and often ask them to communicate with the chef, I eat what I'm served without complaint, I give verbal thanks, and I tip extraordinarily well when my request for a safe, gluten-free meal is accommodated. But Mr. Cardone does not want guests like me in his restaurant. That is his loss, but it is not and never will be his right, to purposefully inflict pain and suffering on other human beings, people who are paying him money to serve them safe food. He is guilty of so many crimes it's difficult to fathom, and I certainly hope that his days of freedom to continue poisoning diners will end soon.

Luckily, the gluten-free community has many other options, and gluten-free diners will learn to avoid any establishment in which Mr. Cardone has any affiliation. Even though Mr. Cardone does not deserve any compassion, I would never wish for him, or anyone, to be diagnosed with celiac disease. It's just too painful…

Author's Note:
Thank you to Chad Hines for spreading the word about this occurrence. Mr. Cardone live in Glenwood Springs, Colorado, where he works as a private chef, and also at the Italian restaurant "Florindo's" in Glenwood Springs, Colorado.