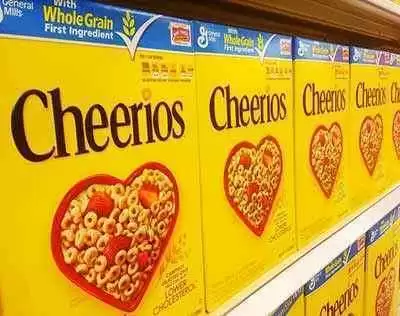 Caption: Photo: CC--Mike Mozart
Celiac.com 02/26/2016 - Consumer complaints to the FDA fueled a class action lawsuit claiming that cereal maker General Mills mislabeled gluten contaminated Cheerios as "gluten-free."
The recent suit was brought by a Kentucky woman, who alleges that she purchased two boxes of Honey Nut Cheerios labeled as gluten-free, but which actually contained gluten levels more than two times higher than allowed under FDA standards.
---
Celiac.com Sponsor (A12):


---
---
Celiac.com Sponsor (A12-m):


---
The consumer complaints led to FDA testing on gluten-free Cheerios. The FDA tested 36 samples of gluten-free Cheerios taken from different manufacturing facilities and lots. The tests found that some "Gluten Free" Cheerios samples contained as much as 43 ppm gluten. Current FDA rules forbid the use of the statement "gluten-free" on any food product with gluten levels above 20 parts per million.

General Mills issued a recall on Oct. 5., and the suit was filed in late 2015 in a California federal court, and charges violations of California and Kentucky consumer protection laws.

The suit alleges that supposedly gluten-free oats were cross contaminated with ordinary wheat at one of General Mills' processing facilities.

Stay tuned for more news on this and other developments on gluten-free labeling and celiac disability claims.

Read more at Legalnewsline.com.